Calling All Baby Boomers! Volunteer for Animals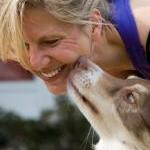 Writing a letter to the editor of the local newspaper. Reading to a group of children at the library. Putting together a welcome basket for new neighbors. What do these gestures have in common? They are all great opportunities for PETA Primers to connect with others while making a difference in our communities.
Many of us may find ourselves empty-nesters—whose kids have flown the coop and whose animal companions have become surrogate children. Others are retirees who might have some extra time on their hands. In either situation, volunteering can be an important way to stay active and help your furry, feathered, and finned friends at the same time.
That was the case for Steve, a corporate negotiator who hadn't given much thought to animal rights issues until his youngest son returned from college and announced that he'd gone vegan. As Steve learned more about the reasons for his son's choices, he realized that he could use his own unique skills to help animals. Steve volunteered to help PETA, and he has since successfully led negotiations with fast-food chains, meat and poultry producers, veterinary professionals, and others, causing many companies to make groundbreaking reforms that have saved and improved the lives of millions of individual animals.
Or how about Mark—a retired advertising executive who volunteered his skills to create moving newspaper ads to help animals. Or Beverly, who, after seeing chicken slaughterhouse footage from a PETA undercover video on the news, contacted PETA to ask what she should do about stock she owned in the company responsible for the abuse. PETA used Beverly's stock to submit a shareholder resolution calling for an animal welfare review at the company's annual meeting.
Steve, Mark, and Beverly used their unique attributes to help animals, but saving lives can be as easy as enclosing a "Fur: There's No Excuse" leaflet with bill payments or giving your grandchildren a comic book that teaches them why circuses are no fun for animals. Anyone and everyone can make a difference, and no contribution is too small.
The following are some more ideas for ways that you can get active to help animals:
Pledge to do one action a day that will help animals. It is never too late to change the world for the better!
How about you? What are some ways that you have volunteered in behalf of animals?