Veterinary Tales, Volume 2: Bronx Chihuahuas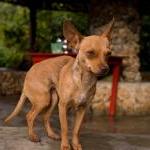 During my first year as a vet in New York, I was introduced to a group of Chihuahuas whose unique qualities included the following:
1. They were originally from Mexico but were now indigenous to the Bronx.
2. They were aggressive toward everyone except their caretaker.
3. Their general appearance resembled a veggie meat loaf, (i.e., they were as wide as they were long).
4. Their names were Tiny, Paco, and Pepe.
5. They were mainly fed a diet of paella, Fritos, and arroz con pollo (rice with chicken).
6. They were at a high risk of developing diabetes and pancreatitis.
I called them the Bronx Chihuahuas. These Chihuahuas came to our hospital and were admitted to intensive care for diabetes-a disease most often diagnosed in overweight animals. But once they were feeling better and able to growl and bite again (usually 12 to 24 hours later), they wanted to go home, as they would not easily change their less-than-ideal and inappropriate food habits and consider eating dog food, and paella and Fritos were definitely not on the hospital menu. In addition, it was often very difficult for anyone but their guardian to get close enough to give them their insulin injections safely.
I crossed paths with one such Bronx Chihuahua, Tiny, when I was a vet intern. My supervisor asked for a volunteer to demonstrate to Tiny's guardian how to give insulin injections to her dog before she took him home. As this was clearly an unenviable, if not outright dangerous, task, the interns drew straws. I lost. I wondered how I was going to preserve my fingers yet come across as a professional (I had only been a vet for a few months). I chose the only self-preserving path I could think of at the time: I "darted" the syringe into a fat pad near the dog's rear end. Proclaiming victory, I looked at the impaled Chihuahua and announced, "There! See? It doesn't hurt!"
The client, unimpressed by my injection technique, responded, "You'd better just put him to sleep." Apparently, none of my rookie colleagues had informed Tiny's caretaker that lifelong injections would be required as part of Tiny's long-term health-management plan. Since part of keeping Tiny healthy would also be a new healthier doggie diet, I suggested giving the insulin injections while he ate his new healthier dog food at home. Thankfully, Tiny's mom realized what the right decision was and committed to the new health plan.
What does Tiny teach us? As always, the best solution to this difficult situation is to avoid it in the first place. Help your animal companion stay trim and fit by giving him or her plenty of exercise, fresh water, and a proper, healthy diet.
And how did Tiny affect me? I always remember to ensure that my clients are willing to inject insulin before treatment of their animal companion's diabetes. In almost all cases, caretakers are able to conquer their initial insecurities and adapt just fine.
I'm pretty sure a sub-conscious motive for my move to California was to evade the small but no less intimidating, Bronx Chihuahua.
Do you have any tips on treating your animal companion's health issues?