Three PETA Members Who Make a Difference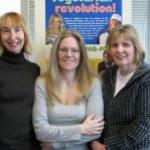 I get energized when I read PETA's Annual Review, since it's so unbelievable how much work this organization accomplishes in one year. But I am often asked, "How can I personally do more to help animals where I live?" Three wonderful PETA members in Canada have answered that question with an Annual Review of their own. When Michele, Diana, and Sharon sent me their personal stories for 2008, I knew that I had to share it with PETA Primers immediately! Take a look at how these three dedicated PETA members helped animals in 2008:
We are proud to say that we have been even more inspired to make compassionate choices in our daily lives. Here's how the three of us have been making a difference in Ottawa since May 2008:
We used PETA merchandise to promote our organization everywhere we went–this includes items such as the "No Animals in Here" lunch bags; grocery bags; aluminum water bottles; coffee mugs; stickers on our cell phones, cars, and daily agendas; wall calendars; padfolios; key chains; and T-shirts galore!
We used cruelty-free products.
We participated in activism through demos, such as our own circus protest in August and a fur demo for "

Fur-Free Friday

"  in November, and we went to KFC with the PETA

Lettuce Ladies

(Nicole and Virginia) to enjoy the new vegetarian sandwich (yummy!).We organized another fur protest for February 14 and a seal hunt protest for March 15.
We wrote

letters to newspapers

(and a letter was published regarding our concern about plans for an aquarium) and local radio stations.
We hosted a vegetarian info session at our workplace with delicious vegan treats.
We signed

petitions

on a regular basis.
We reactivated a local animal rights group and its

Web site

.
Sharon's husband, Dan, continued to work on his antifreeze campaign, since many animals suffer very painful deaths every year because toxic antifreeze is dumped or spilled outdoors or even put out intentionally.
Michele sent various animal rights leaflets using postage-paid envelopes that came unsolicited from banks and other businesses.
We helped convert family and friends to vegetarianism (including Michele's son!).
Michele rescued a second rabbit from a family that had purchased the rabbit without really knowing of the commitment and care that rabbits require.
We regularly handed out "

Vegetarian Starter Kits

"  to coworkers and friends.
We convinced a coworker to join

PETA

(so we now have four PETA members out of six people on our team).
And perhaps our proudest moment was coordinating our work team's annual holiday party for nine women, with an entirely vegan potluck dinner! This was a huge accomplishment, because in previous years, we have had to battle just to get some vegetarian options and we often faced ridicule and scorn. This is also an accomplishment because the idea for a completely vegan potluck came from our other coworkers (and, to top it off, the food was fantastic!).We wish you all the best!
Thank you, Michele, Diana, and Sharon! What an inspiring summary of how big a difference individuals can make in this world. Please share with us what you have done for animals in the last year.