Patient Advocates Needed for Kittens and Puppies?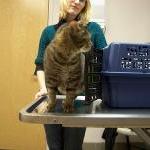 that blonde girl / CC
I've found that when helping my mother deal with emergency room situations, regular physician visits, and specialist referrals, she really needs a patient advocate (me) there to help keep everything straight and to ask questions. I'll bet that most PETA Prime readers have had that same experience. It recently became clear to me that every single unspayed kitten or puppy also needs a patient advocate.
Why do these kittens and puppies need patient advocates? Believe it or not, there are some practicing veterinarians out there who still need education on spay and neuter procedures—especially when it comes to recommending the appropriate age for the surgery.
My wife works at a spay-neuter hotline and recently got a call about a male cat. The caller immediately asked, "Is he old enough?" It turns out that there was a pregnant female kitty in the same household. Why was she pregnant? (Well, OK, given the presence of the boy kitty, that might be obvious.) The woman who called had been told by her veterinarian that her 4-month-old kitten was "too young" to spay, and so she was waiting for her to reach the "appropriate age" of 6 to 9 months. And while she waited, her brother's young male cat got her female kitten pregnant.
I don't think that the thousands of litters that result from this type of situation can accurately be called "accidental" litters—not when there is a simple way to prevent them.
Most veterinary schools recommend that dogs and cats be spayed at 4 months, and many animal shelters, including PETA's two mobile spay-neuter clinics,  routinely conduct the surgery at 2 months of age. If these early spay and neuter procedures are being performed successfully and resulting in happy, healthy cats and dogs, why do some veterinarians continue to insist on waiting until the kittens and puppies are 6 or even 9 months old? They continue to hold onto old myths that pre-pubescent spay and neuter procedures might lead to health problems in adulthood. But even the American Veterinary Medical Association has come out in support of early-age spaying and neutering of dogs and cats.
If these misinformed veterinarians are making incorrect recommendations that cause well-intentioned cat and dog guardians to delay spay and neuter surgeries, then it falls to us to become patient advocates for each and every puppy or kitten. Please help us stem the tide of overpopulation and spread the truth that cats and dogs who are 8 weeks old are old enough to be spayed or neutered.