Love Animals? Be a Real Environmentalist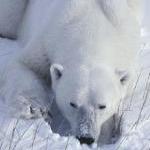 Environmental issues are getting a lot of press these days. Climate change, shortages of clean water, topsoil depletion, rain forest destruction—the list seems almost endless. These issues get front-page placement because of their potentially huge impact on the human residents of this planet: flooded coastal cities, more expensive food, and mandatory water rationing (likely to happen this summer where I live in California). All very scary stuff.
I've thought of myself as an environmentalist for many years. But I didn't get passionate about the environment until I learned about the price being paid by nondomesticated animals. The news that polar bears are headed for extinction really got to me. The bears depend on the polar ice as a platform from which to hunt their prey, and with the melting of the Arctic ice, they are starving and drowning in the open sea. Their disappearance is directly attributable to human activity, and they have a lot of company: one quarter of all species of mammals are at risk for extinction,  and humans are mostly to blame. The situation in the oceans is even worse. A global collapse of all species currently fished is projected by mid-century unless we make drastic changes.
We humans are choking off the prospects of all our planet's residents—human and nonhuman. We are just one of millions of animal species, but we are now consuming about 25 percent of all the energy produced by the earth's plants.  In addition, more than 80 percent of the Earth's land surface is directly affected in some way by humans—leaving only 20 percent of ecosystems relatively untouched. The human population is now almost 6.8 billion, and even though birth rates are slowing, it is expected to reach about 9 billion by 2050. These additional people will need food, land, and other resources, and they will increase the pressure on nonhuman species.
We have a responsibility to be aware of our growing effect on the Earth and do something about it. It's in our self-interest to do so, because a diverse biosphere contributes to the success of every species on the planet, including us. But nonhuman species also suffer from the damage we cause—and they, too, have a right to live happy, healthy lives.
Over the years, I've been privileged to share my life with cats, dogs, rats, and a horse. Each of them was a unique individual with a personality, opinions, and a great joy in living. They forever changed any feeling I might have had that animals exist only for people to use. When I think of wolves, tigers, gorillas, swordfish, and even bees, I don't think they have any less right to existence than my own animal companions. The magnificent proliferation of life in all its diverse forms is, to me, one of the greatest delights of living on Earth, and I don't want to see so much of it destroyed in my lifetime.
We must deal with our environmental crisis not only to save ourselves but also to allow nonhuman species to thrive. But the news isn't all bad, because each one of us has the power to make a change that will have a huge positive impact on the environment: We can go vegan or vegetarian.
I am an environmentalist for all the obvious reasons—­I like having clean air to breathe, plentiful food to eat, and pure water to drink. But I am also an environmentalist because I care about the fate of the nonhuman species we share the planet with. We must not deprive them of a sustainable future.