DeStress and Detoxify Gift Basket Winner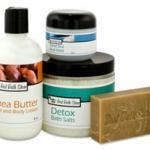 A big CONGRATULATIONS goes out to Joan L of West Bedford TX. Joan is the winner of a cruelty-free DeStress and Detoxify Gift Basket from Best Bath Store—which includes Sweet Vanilla-Scented Detox Bath Salts, Vanilla Bean Body Bar, Dead Sea Mud Mask, and Shea Butter Face and Body Lotion. Enjoy!
Be sure to check back here on April 1 for our next PETA Prime contest. I am not allowed to tell you the details yet, but I can tell you that it has something to do with shopping! Make sure that you don't miss out!