Blaming the Wrong Party for Pet Store and Breeder Sales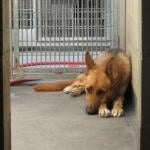 Recently, I read a comment by a leading spokesperson for the "no-kill" animal shelter movement regarding sales of puppies and kittens. This guy (who shall remain nameless, as his point is repeated widely and I do not want to contribute to his publicity) argued that the existence of for-profit breeders and pet stores is because of a failure of open-admission shelters to market themselves and to meet the needs of potential guardians.
The problem with this argument is not only that it ignores basic economic reality (have you noticed that competing box stores are located right across the street from each other?) but also that it is demonstrably false. There are plenty of communities that have wonderful animal shelters with progressive programs that still have to deal with pet stores that sell puppies and kittens, as well as breeders who plaster their posters around the community and advertise in the Sunday paper or on Web sites.
PETA has led protests against the notorious Petland and other stores to try to educate consumers. The animal shelter community needs our assistance and support—it shouldn't be blamed for the existence of businesses that treat animals like commodities. The key thing that all of us must do is stress to everyone that the only acceptable place to obtain a canine or feline companion is an open-admission shelter or breed rescue group. We need to educate people so that they make the right decision, no matter what types of advertisements and promotions might be out there.
A few weeks ago, a woman walked into the animal shelter where I volunteer and asked for a Persian cat. She was told that there weren't any purebred Persians among the several hundred cats at the shelter and was encouraged to check out the wonderful cats who were on hand. On her way out, the adoption manager assured the woman that a Persian would arrive within a short time because they are quite common and that the shelter would call her as soon as one arrived. The woman thanked her and said she'd appreciate a call since her beloved cats have always been Persians. A few days later, two Persians came in and the manager immediately called the woman—only to learn that she had already gone to a breeder.
To blame the animal shelter for this woman's actions is ridiculous—the shelter workers did everything they could to help facilitate an adoption. Think about how this story might have ended had the woman refused to purchase a cat from a breeder and, instead, waited a few days as the shelter had requested.
In this fast-food society—where videos, food, and all manner of other items are delivered in short order—the for-profit animal breeders and sellers are fighting for their market share. And therein lies the real problem. Animals should come from adoption agencies that place their needs first, not from some place that treats them like an iPod, a flat-screen television, or some other product that will end up being replaced by a more interesting consumer novelty later on.
If the animal shelter in your community is not a model of excellent public relations and customer service, do you think that somebody is justified in going to a breeder or pet store to get their puppy or kitten?