Being Kind to Your Lawn: Chemical-Free Care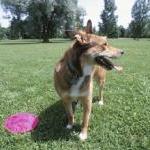 Spring is on its way—which means that it is time to start thinking about lawn care. Fortunately, it is easy to have a healthy green lawn without using toxic chemicals that harm the animals in your yard and pollute the environment.
Here's an excerpt from my book Making Kind Choices about how to care for your lawn without harming the life within it:
Howard Lyman is the author of Mad Cowboy. He is also a "fourth-generation reformed farmer, stockman and feedlot operator," who emerged from University of Montana, determined to use his agricultural degree to redo his family's organic farm as an "agribusiness," using all the new chemicals that were then coming onto the marketplace on his crops and his cattle. Some years later, he looked at the land under his feet and found it was "deader than a doornail. No worms, no insects, no life. I had killed the soil and all the animals who once made it churn and thrive. It was now sterile and chemically saturated. What had I done?"
Mr. Lyman, who went on to become president of EarthSave, and wrote a moving book called Mad Cowboy, had many thousands of acres to ruin, but the lessons he learned may allow us to stop ourselves before we behave in the same way to the manicured lawn in front of our house or to the wonderful garden out back. … This is especially important because the insects, birds, even wandering dogs and cats, cannot read those signs that say "Chemically Treated," nor can the rains that carry those chemicals via the storm sewers into the rivers and streams to poison fish and frogs and water-dwelling mammals and birds.
… The New York Times reported how a champion ice skater, Christina Locek, was sunning herself in her Illinois backyard when a lawn care company began spraying insecticides onto a neighbor's yard. The article described how the spray drifted into Ms. Locek's yard, across her and her cat and dog. The cat died within minutes. The dog died within a few hours. Ms. Locek collapsed and is now permanently disabled and no longer able to compete.
. . .
Birds and wild animals suffer even more than humans do. Ward Stone, a New York State wildlife pathologist, says, "You can follow label directions to a T and still kill birds." Classic signs of pesticide poisoning in birds are shivering, gasping, excessive salivation, seizures, wild flapping, and sometimes screaming. Birds often have these reactions out in the open, while small mammals may crawl into their dens to suffer and die.
. . .
A chemical-free lawn, like a tree, detoxifies the air of pollutants and brings better health to four- and two-legged property occupants. A lot of unseen underground activity by worms and microorganisms makes a lawn healthy. If you allow this biological activity to go on unharmed by pesticides, roots will be stronger and chemical fertilizers unnecessary.
. . .
Carla Bennett, PETA's columnist of "Ask Carla" fame, says, "Never walk on wet or soft lawns. Where the soil is compacted, use an aerator, available at rental stores, to punch small holes in the ground, or walk over the soil in shoes with cleats. Raking removes thatch and other dead organic material that smothers grass. Using a sharp blade, mow high; a grass height of two inches will shade out crabgrass and many weeds."
It's best to leave grass clippings on the lawn after you mow. This natural, free fertilizer breaks down easily and provides up to one-half the nitrogen and potassium a lawn needs to green up and thrive. Earthworms and natural organisms eat the clippings to provide a natural cycle of fertilizing and aeration.
Even leaves can be left in place if they are ground up with a lawn mower. Leaves also provide winter protection for tree roots. If you water, replace sprinklers, which waste water, with soaker hoses or "impulse" sprayers, which shoot water out in an efficient jet as the head turns. Plant ground cover in difficult areas.
. . .
Carla Bennett is adamant that lawns can survive with little or no fertilizer. There are now excellent new organic fertilizers on the market," she advises, "but beware of harmful petroleum-based products that are represented as "organic" because they contain a little manure. In a natural, healthy lawn, the grass will be slower-growing, stronger, and more drought-resistant. Clover is not a weed and should be left in peace to grow. Its root nodules contain bacteria beneficial to the lawn and plants. And, don't worry about dandelions or other weeds, Carla advises. Weeds are judgment calls. Dig them out by hand if you don't like them.
How grateful we should be for the exercise and chance to spend time in our healthy yard.