Yummy Vegan Mac and 'Cheese'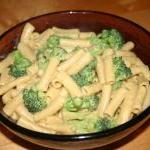 I have a very easy recipe for all you vegan mac and "cheese" lovers out there who want to try an alternative to using store-bought vegan cheese. I enjoy vegan cheese on my pizza and occasionally on other foods, but it is expensive. And sometimes I just want old-fashioned comfort food with new-fashioned healthy ingredients.
When I went vegan many years ago, one of the first vegan cookbooks I purchased was The Compassionate Cook by Ingrid E. Newkirk. Ingrid had come to San Diego to promote one of her latest books. After an engaging and very entertaining talk, she did a book signing. She was signing an array of her books, new and old, and of course, I had to have a signed copy of her cookbook for my kitchen. To this day, it is still one of my favorite cookbooks, and I use it often.
The Cheezy Macaroni Casserole (on page 120, for those of you who have that cherished cookbook), is a staple in my home. I changed the recipe when I had a craving for the dish and discovered that I didn't have any vegetable broth or tomato sauce in my pantry. I always have soymilk in my house, so I used that, and it turned out great. Ingrid's original recipe is totally delicious, but here is my revised recipe, with just a few changes.
Mac and 'Cheese'
1 cup nutritional yeast
1/4 cup unbleached all-purpose or spelt flour, sifted
2 cups plain soymilk
2 Tbsp. tamari or soy sauce
1/4 tsp. cayenne pepper
3 to 4 cups steamed and chopped broccoli flowerettes
1 cup frozen peas, defrosted
1 package of pasta shapes of your choice
Combine the nutritional yeast and flour in a medium saucepan. Place the mixture on low heat, stirring until lightly toasted. This will only take a minute, so be careful not to burn it. Slowly add the soymilk, whisking or stirring to make a thick sauce. When all the lumps are gone, stir in the tamari and cayenne pepper and mix well.
Meanwhile, cook your pasta according to the package directions. When the pasta is done, drain it, put it back into the pot, and stir in your "cheese" sauce along with the broccoli and peas, and serve. You can put a little bowl of vegan Parmesan on the table for those who want even more cheesy flavors.
VegCooking.com has just posted a very similar recipe, with the addition of tofu. Check out Amy's great recipe. I would love to hear your recipes and variations on mac and "cheese."