Woofie and the Dog Park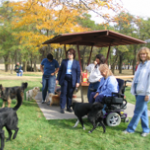 When it's cold and dreary and all the other parks are deserted, Spokane County, Washington's one and only dog park is always buzzing with activity. Spokane's first-ever dog park, Gateway Dog Park, opened on October 4, 2006. The opening made front-page news in the Spokesman Review, and one of our dogs, Woofie, was the featured dog in the opening paragraph:
"Every dog has their day. Wednesday was Woofie Anderlik's. Minutes after Spokane County ceremoniously opened its first off-leash dog park, Woofie trotted through the gates. He watered the grass, sniffed a few butts and ran with an equally eager group of about a dozen canines."
Like many places, the Spokane area has become a victim of urban sprawl. It had become really difficult to find a safe place where dogs could run and play without the worry that they might tango with wildlife, get hit by cars, or violate the leash law. We desperately needed a dog park.
Gateway Dog Park is a testimony to what a community can accomplish when we all work together. Spokane County Regional Animal Protection Service (SCRAPS), our County Commissioners, the Parks Department, and numerous volunteers all pulled together to raise the funding to turn an abandoned rest area off Interstate 90 into a 3 1/2-acre dog park called Gateway Dog Park.
Gateway Park is in a beautiful spot, right along the Spokane River, connected to numerous biking and hiking trails. There is always a crowd of happy doggies and their people. It has been such a success that two more dog parks in the area are opening–one across the state line in Coeur d'Alene, Idaho, and one north of Spokane.
You can read the complete Spokesman Review newspaper article about the dog park's opening. If you are traveling on Interstate 90, stop by and see for yourself. Take the State Line exit between Spokane, Washington, and Coeur d'Alene, Idaho, and follow the sign to Gateway Park. It's easy to make new friends at the park, and you might even run into us. We'll be the ones in the blue "SCRAPS Volunteer" vests, roaming around with our dogs and our pooper scoopers.
If you have a dog park in your area or know of a special dog park, I'd love to hear about it.