Undercover Turkey Investigation Results in First-Ever Felony Charges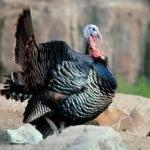 Have you ever had the chance to hang out with wild turkeys? If you have, you know that they are gorgeous, caring, expressive, and intelligent birds. Well, conditions for turkeys on factory farms are a far cry from providing an idyllic life. PETA's undercover investigation at the factory farms of Aviagen Turkeys, Inc., in West Virginia exposed horrendous abuse of birds by more than a dozen supervisors and workers. Need proof? Here is the video and the details of what we uncovered.
We've seen these kinds of malicious acts on undercover videos before, so what makes this one so different? For the first time in U.S. history, felony cruelty-to-animals charges are being brought against former farm workers who were documented abusing the birds. That is a huge statement, when you consider that more than 9 billion individual chickens and turkeys are slaughtered in this country every year, and most of them are subjected to cruel and painful lives, not to mention cruel and painful deaths.
The Aviagen indictments marked a turning point–this is the kind of landmark decision that can precipitate change in a profit-driven industry that has been fiercely resistant to animal welfare concerns. The 19 indictments brought against Aviagen's ex-employees make it clear that animal abuse will not be tolerated. A felony cruelty-to-animals conviction is more than a light slap on the wrist: In West Virginia, it carries a sentence of one to five years in prison and a $1,000 to $5,000 fine.
Protecting birds on factory farms and in slaughterhouses has been difficult. Even though they are fully aware of their surroundings and feel pain just as we do, chickens and turkeys–who make up more than 99 percent of the land animals killed for food in the U.S.–aren't protected at all by the U.S. Humane Methods of Slaughter Act (the only federal law governing animal welfare in slaughterhouses, which is weak and seldom enforced). Let that sink in: Birds don't even count! Abuse these sentient creatures however you like on factory farms and in slaughterhouses–that's Congress' take on the issue. Chickens and turkeys must take whatever punishment is meted out to them. Their treatment can be so painful that it staggers the senses, as the undercover video demonstrates.
Most states have laws that deem "usual and accepted standards" of the agricultural industry to be exempt from punishment, regardless of how callous they may be. But there are also provisions in most state cruelty-to-animals laws for prosecuting egregious acts of abuse. And that's where PETA has found a foothold for securing charges against those who inflict such horrific cruelty on animals. PETA's undercover videos and first-person accounts of rampant atrocities give local authorities the evidence that they need to bring charges based on state cruelty-to-animals laws.
Indeed, PETA now has 46 criminal charges of animal abuse on factory farms pending against a total of nine individuals in West Virginia, North Carolina, and Iowa (plus the recent conviction of a pig-farm worker in the largest pork-producing state in the country). We hope that there will be more indictments and charges to come.
In a truly compassionate world, no one would raise and kill animals to eat them. But until that day comes, PETA's brave undercover workers will drag hellholes like these out into the light for all to see. And a tipping point has been reached, now that abusing factory-farmed birds has been deemed worthy of felony charges. Tomorrow will be just a little better for countless birds.