PETA Member Helps Take 140-Year-Old Lobster Home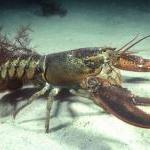 msn / CC
It was a cold winter day in New York City. I was climbing out of the subway on my way to Little Lad's (a wonderful downtown vegan restaurant owned by Larry Fleming, formerly of Country Life restaurants) when I received an excited call from Jannette Patterson, my friend, a fellow New Yorker, and a staff member of the PETA Foundation.
She asked me, "Where are you right now? Where exactly are you? And what are you doing right now?" I explained that I was headed to Little Lad's to meet Larry. We were planning on driving to Maine later that day. It must have been fate because Jannette hollered, "We've just obtained the release of George, and he needs a ride to Maine–today!"
So who is George? He is a 20-pound lobster, believed to be 140 years old, who was being kept at City Crab and Seafood in New York City.  City Crab was using George as a mascot when PETA petitioned for (and received!) permission to help take George back home.
I quickly called Larry, asked him if he was sitting down (which he wasn't and rarely is), and explained George's plight. Larry replied, "Of course, Patricia! We'll bring him along to help with the driving." This set into motion a flurry of activity behind the scenes at PETA, which dashed out news releases and prepared for George's safe passage out of New York to his new home in beautiful Maine–"the way life should be" (as the sign on the freeway said).
The drive was long, but the scenery along the way was spectacular. We arrived in Portsmouth, New Hampshire, at about 1 a.m. and deposited George with another PETA member who completed the trip to the waters adjacent to Kennebunkport, Maine, where George (or Georgette) was released and will live out the rest of his (or her!) life in peace, presumably commiserating with the other George who vacations down the road.
That day was incredibly special for me, and I will always recall it as one of the best days of my life. I couldn't have successfully planned the day if I'd tried, and I am grateful to all the people who helped along the way.
I've been involved with PETA for about 20 years. I've done lots of animal rescue and am vegan. When I stopped consuming animals, they stopped consuming me! My health (all aspects: mental, physical, and spiritual) has never been better. To date, the most rewarding moments for me are doing everything in my power to stop and reverse the harm and intense suffering that humans have inflicted on the creatures with whom we share our planet and watching my beautiful daughter, Kristin, follow my lead.
Thank you, George, for giving me the opportunity to be part of another one of these inspirational moments.