Oh, Canada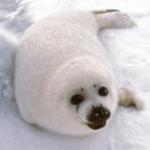 If you've been following the animal rights movement since the '70s, you no doubt remember the massive worldwide campaign to end Canada's despicable baby harp seal slaughter. Who can forget those heartbreaking ads showing fluffy white baby seals staring at the camera with their enormous eyes? Public outcry forced Canada to ban killing "whitecoat" baby seals in 1987, and the seal slaughter essentially collapsed. Then in 1996, that changed, as the Canadian government started subsidizing the massacre in an effort to rebuild it. It has since grown almost every year, and it is now the largest marine-mammal slaughter in the world, with up to 330,000 harp seals killed annually.
The Canadian government allows club-wielding sealers to kill baby seals after they have started molting their white fur, when they are just 12 days old-yes, seals can legally be killed before they are even 2 weeks old. The difference between bashing in the head of a 12-day-old seal and a 13-day-old seal is lost on most people, and opposition to the seal slaughter is growing. Here in the U.S., the sale of seal fur has been banned since 1972. Belgium and the Netherlands have passed laws banning the importation of seal fur, and the European Union (E.U.) is considering similar legislation. Just last week , a committee in the E.U. Parliament voted in favor of a strong prohibition on trade in seal products-this brings Europe one step closer to a complete ban.
But Canada isn't taking this lying down. In a misguided and dirty effort to make the slaughter seem more palatable, they've implemented new "standards," including requiring that sealers wait 60 seconds before skinning the seals in order to "ensure" that they are dead. I'm sorry, but bludgeoning gentle animals, impaling them, dragging them across the ice, and ripping off their skin after a 60-second pulse check-if anyone is actually watching-does not fit any realistic definition of "humane." And the new regulations don't require a speck of oversight.
With Canada upcoming 2010 Winter Olympic Games, the world's eyes will  be turning its way. That's why PETA has thrown our campaign against the seal slaughter into high gear-and  we'll be keeping it there all during the coming year, right through the Games.
Please contact the Vancouver Olympic Organizing Committee and demand that it help bring an immediate end to the seal slaughter.