No Good, Bad, or Ugly Bird?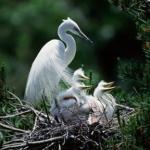 Do you consider any species of bird to be "bad"? If you have a bird feeder in your yard and a cooper's hawk swoops in and takes another bird for dinner, admit it–don't you just hate the cooper's?
It is not surprising that PETA, which was formed to promote respect for all animals, frequently has to challenge groups or government agencies that want to kill certain birds because of perceived problems–for instance, this residential community's plans to kill acorn woodpeckers.
We also have our work cut out for us convincing individuals that all birds are deserving of equal respect. There is a long history of activists' making historic changes to save some birds and ignoring or even promoting the suffering and deaths of others.
The passionate 19th-century women who organized a decades-long educational and political battle to end the killing of egrets and other birds for women's hats saw no need to organize for birds of prey. As Scott Weidensaul notes in Of a Feather, "good bird/bad bird judgments were ubiquitous in the first half of the twentieth century, from backyard birders to the most prominent scientist…."
Egrets and bluebirds were seen as innocent "good birds," but birds of prey and birds such as the blue jay,  who eat other birds' eggs, were "bad." The Audubon Society condemned the millinery trade, but its duck-hunting founders ensured that the organization vigorously opposed "bag limits" (as in "body bag") or the prohibition of the use of live bird decoys. The Audubon Society reformed somewhat in the 1930s after public outrage at revelations that it made money by selling fur from muskrats killed on its "sanctuaries" and otherwise failed to protect wildlife.
Rosalie Edge was an early-20th-century suffragette and birder whose activism changed societal attitudes and policies toward birds. She helped lead the fight to end the Audubon's support for killing birds for so-called "sport," and unlike so many of her time (and, unfortunately, ours), she saw birds for who they are. She was appalled to learn of annual massacres of hawks and eagles along their flyways (superhighways in the skies that birds use during migration; for raptors, these are frequently along mountain ridges). She used her own funds to purchase land on a Pennsylvania mountain in 1932, where one can now stand and watch raptors fly by at eye level (sometimes hundreds, even thousands, in a day). Rosalie also organized to ensure that public funds were directed toward buying national park lands comprised of key wildlife habitats (not just pretty sites that didn't interfere with logging and mining) where hunting would be prohibited.
The recognition of birds as fascinating beings who have developed varied survival mechanisms over thousands of years has advanced since those early struggles. But attitudes at the individual and societal level still reflect a bias toward "good" and "bad" birds. I catch myself being annoyed at European starlings (a European species that quickly spread through human-altered habitat in North America after a fool in New York released them in 1890 because he wanted to have present any birds mentioned by Shakespeare–I'm not making this up) who empty my peanut feeder, which I keep stocked for nuthatches and woodpeckers.  And, unlike PETA, many bird conservation organizations remain silent when state and federal agencies kill cormorants ("bad") to protect great blue herons ("good") or when they poison starlings or shoot laughing gulls. And I haven't even mentioned serving chicken, turkey, or duck at a birding meeting!
Isn't it long past time to recognize that birds (and other animals) are individuals who deserve respect, despite the differences they have with us?