Colleen's Blueberry Cobbler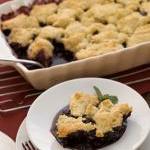 As promised in our interview with Colleen Patrick-Goudreau, here is a delicious blueberry cobbler recipe from her book, The Joy of Vegan Baking: The Compassionate Cooks' Traditional Treats and Sinful Sweets. Colleen says, "This could easily be called fruit cobbler [because] it invites the inclusion of any berry or fruit such as apples or peaches. Because I love biscuits and berries so much, this is one of my favorite desserts."
Originally published by Amy on VegCooking.com. To see the full recipe, check out Amy's original post.

More: