Celebrate American Heart Month–Have a Healthy Heart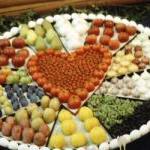 February is American Heart Month, and if you need another reason to do more to safeguard your heart, take a look at this compelling personal story about heart surgery, written by my coworker, Paula Moore:
Last year, my boyfriend's cousin, Marilyn, underwent open-heart surgery. Five of her coronary arteries were 99 percent clogged, and when the doctors opened up Marilyn's chest, they discovered that her heart was encased in a one-inch layer of fat. The surgery was expected to take about five hours. It took eight instead because the doctors first had to cut away all the fat from Marilyn's heart. One surgeon said that Marilyn's heart looked like a Butterball turkey.
Marilyn's story is a stark reminder that we are what we eat.
Heart disease kills more people in North America than anything else. Until recently, it was assumed that, as we got older, our arteries would inevitably become clogged. In fact, one commercial for a cholesterol drug describes atherosclerosis (hardening of the arteries caused by plaque build-up) as a "progressive disease." Well, yes, it is, if you keep eating pepperoni pizza and Buffalo wings like there's no tomorrow (as there very well might not be).
But it doesn't have to be that way. Two doctors-Dean Ornish and Caldwell Esselstyn-have proven that heart disease can be prevented and even reversed with a low-fat vegetarian diet. As Dr. Esselstyn describes in his book, Prevent & Reverse Heart Disease, he has had 100 percent success in taking people with advanced stages of heart disease and stopping the disease in its tracks-and even, in most instances, reversing it. Dr. Dean Ornish, author of Dr. Dean Ornish's Program for Reversing Heart Disease has consistently seen similar results over the past decade when he puts heart patients on a regimen that includes a low-fat vegetarian diet, moderate exercise, and relaxation techniques, like yoga. If you know someone who has had a heart attack or heart bypass surgery, you should buy them one or both of these doctors' books-they could change, and perhaps save, your friend's life.
Dr. William Castelli, the director of the Framingham Heart Study, the longest-running epidemiological study in medical history, feels that "Vegetarians have the best diet. They have the lowest rates of coronary disease of any group in the country. … [T]hey have a fraction of our heart attack rate, and they have only 40 percent of our cancer rate." David Jenkins, a researcher at the Clinical Risk Factor Modification Center at St. Michael's Hospital in Toronto, agrees that "the evidence is pretty strong that vegans, who eat no animal products, have the best cardiovascular health profile and the lowest cholesterol levels."
And it's not just heart disease that a vegetarian diet helps prevent. The American Dietetic Association (ADA) performed an extensive review of scientific studies about vegetarian diets. They found that vegetarians have lower rates of heart disease, diabetes, high blood pressure, cancer, and obesity than meat-eaters do. The ADA's position paper on vegetarian and vegan diets concludes that vegetarian and vegan diets are appropriate for all stages of life, including infancy and pregnancy, and that they have "health benefits in the prevention and treatment of certain diseases."
Don't want to have a heart that looks like a Butterball? Then don't eat one! Take it easy on your heart by sampling some of tasty, heart-friendly recipes at www.VegCooking.com.
How about you-have you had success with lowering your cholesterol or blood pressure on a vegetarian diet?