Caring for Aging Parents–What Crows Teach Us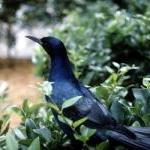 A couple of years ago, I moved back to my hometown to be more supportive of my aging mother. A visit from some friends of mine this week led me to reflect on my role as a caregiver as my mother ages. My friends are representative of so many families these days: The adults are living with their aging parents, their teenagers, and their babies. The fact that my friends are American crows doesn't change the lessons one can draw.
When humans (or crows) are born, the babies are helpless; adults provide food and important lessons about life. Juvenile crows, in a move reminiscent of my heading off to college, leave their immediate family members to join groups of other young crows. But they return to reside with their parents throughout most of the year and often help with raising subsequent generations. The families work together to fend off predators and find food, not unlike those of us who are helping our senior parents fend off identity thieves and assisting with household chores that become harder with age. As crows age, the assistance of their younger family members surely makes survival easier, just as in human families.
I've always admired the social cooperation of crows. Whether mobbing a predator (it's particularly annoying to me when the predator is a feline, who should be safe inside) or raiding food at an unattended campsite, crows work together for the good of their community. Their enormous winter roosts, which may include tens of thousands of birds, seem to be a sort of coffeehouse, where information about the location of food is shared for the next day's meals. Over the years, PETA has acted to prevent communities from killing the crows in such roosts because people were annoyed by the noise or droppings.
PETA receives calls every day about individuals and institutions that are causing harm to animals. But while some in our society act to inflict harm on others, there is a growing movement to live in peace with our animal neighbors. Whole families of humans live a cruelty-free lifestyle (like PETA Prime's own Anderlik family), not only by making smart consumer choices but also by studying how to get along with very different beings (such as mice) and helping other families know that animals suffer in circuses and other industries.
It's natural to help our immediate family, but it takes an extra effort to help those of our own species whom we don't know and will never meet, or to help individuals and families who are of a different species. It is so easy to provide care to animal families who share our neighborhoods, and some of our support to them can not only leave us with a sense of satisfaction at having taken kind action but also provide other personal benefits. My mom and I recently spent several hours together looking out the window at the birds in the native bird-friendly shrubs that I planted to provide long-term care to our feathered neighbors, even when I've moved on.
The life journeys of our families are not that different from those of animals in the most important respects, don't you agree?