The Search for the Perfect Veggie Burger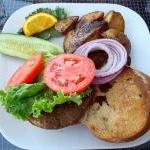 Svadilfari / CC
I have been a vegetarian for 30 years and vegan for the last 12 (I'm now 82). Being a vegetarian was almost unheard of 30 years ago, and those early years were not easy. We didn't have all the fabulous vegan products at the grocery store that we do now, including soy and rice milks, soy butter, vegan cheeses, veggie burgers, and even ice cream. However, for many of those years, our family enjoyed a delicious vegan meat substitute, Midland Harvest's dry Original Burger Mix. This mix came in 6-ounce foil packages, and we usually ordered 100 packages at a time from a supplier in Ohio. Recent exhaustive searching revealed that this product was no longer available anywhere.
My daughters' families and I tried to find it or a satisfactory replacement locally or by mail to fill the void. We tried dry, frozen, refrigerated, and specific-purpose mixes of all kinds. None came even close to the taste, consistency, and price of the Original Burger Mix.
After many calls to Archer Daniels Midlan (ADM), they finally gave me the number of a person who "might" know something about this Original Burger Mix that I had been seeking. It was a vegetarian supplier in a suburb of Toronto, Canada, which ADM claimed to be the only source of the product. Despite the fact that it only comes in a huge 10-kilogram (22-pound) bag, I ordered a bag anyway!
It is the Original Burger Mix minus some saturated fat that was in the original product. This new dry mix lets you add your own healthy kinds of oil. After mixing in the oil, adding water, and waiting 30 minutes, it can be formed into a burger and microwaved, fried, or grilled without crumbling. You can add the mixed burger, even without cooking, to spaghetti, chili sauces, etc., and it holds its chunky consistency.
In spite of a $40 shipping fee to send the 22 lb package all the way to Washington state, we make four good-size burgers from 1 cup of mix for about $1.30.
The Web site is http://www.solcuisine.com/services2.html.
I talked to a representative there who says that they plan to develop small individual packages but that it likely won't happen soon. While I am thankful for and enjoy many of the other veggie burgers out there, I will always be a loyal fan of the "Original." Having many options for great, cheap, unmeat burgers makes it much easier to convert human carnivores, so it would be great if Sol Cuisine sold its veggie burger mix in smaller packages so that others could enjoy them too.
I have absolutely nothing to gain financially from this blog posting except happy, safe cows and good eats! You can help by calling 905-502-8500 or by e-mailing [email protected] and encouraging Sol Cuisine to sell smaller packages of its Veggie Burger Mix.
What's your favorite veggie burger?