Planning an Animal-Friendly Garden Part 4: Plant Selection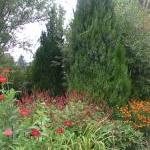 perennial/annual/shrub garden
In the first parts of this series, we learned how to choose a location for your garden,  make compost for your soil during the winter months, and pick out edging that is functional, attractive, and safe for animals.
Now the days are getting longer, the holidays are behind us, and spring is closer than you think. Early bloomers, like crocus, are starting to come out of dormancy, and it's time to start selecting plants for your new garden.
The first question to answer is what type of garden to grow–vegetable, shrub, cut flower, butterfly/bird-attracting, fragrant, annuals/bulbs, etc. Options can be overwhelming, but after realistically considering budget, space, sun exposure, your schedule for maintenance, and your dog's habits and behaviors, you can easily come up with a simple plan for a beautiful garden.
Plant selection comes down to just two categories: herbaceous and woody plants. Herbaceous plants–such as perennials (flowering plants that return annually), vegetables, and annuals (flowering plants that last only one season)– have nonwoody stems. Woody plants, such as trees and shrubs, have hard stems. There are many differences between the two types.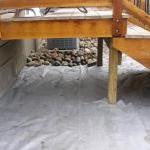 Tree/shrub gardens created with woody plants require very little maintenance, especially since they can live in landscape fabric and rock mulch, which prevents unwanted weeds from growing around them. (Landscape fabric is a breathable cloth that is installed underneath rock mulch). The growth habit of trees and shrubs is "up and out," so installing fabric around the base of the plant does not restrict their growth. Also, many evergreens, barberries, and pyracantha are dog-resistant because of their thorns and/or texture. If you are looking for a simple, low-maintenance garden, you might want to start out with woody plants.
Herbaceous plants require more maintenance than woody plants. They spread as they grow and thus should not be planted with landscape fabric around them–it will restrict their growth, and they'll never be in their glory. Since you can't use fabric in perennial beds, weeding will be required and your maintenance time will increase. You can install wood mulch or compost or use black and white newspaper as a landscape fabric to reduce the growth of weeds. Weeds only grow if they get sunshine and moisture. Therefore, installing 2 to 3 inches of mulch will protect the ground from these elements and discourage weeds from growing. However, be prepared for more maintenance, since these mulches need to be replenished (top dressed) every other year or so.
Besides maintenance, it is absolutely necessary to consider your animals when choosing plants. Most herbaceous plants are not animal-resistant, so if your dog chews plants and you are looking to have a garden where your dog can run free, it is probably not a good idea to fill it with perennials that have no texture, like Shasta Daises or Salvia. Instead, consider planting thorny or textured plants like Barberry or Pyracantha, found in the shrub family.
Whichever garden you choose, it's best to have plants blooming all season and some interest in the winter for colder climates. When herbaceous plants dieback in the winter, they're not attractive, so think about incorporating a few trees or shrubs–evergreens, barberry, and pyracantha–into your perennial bed. In the summer, it's best to incorporate a few annuals until your perennials establish and thrive (like the picture at the top of this post).
We have a saying in gardening: The first year they sleep, the second year they creep, and the third year they leap. So don't give up hope if during the first year, your garden is not a success–it takes time.
What's your favorite plant in your garden? Tell us why.