PETA Member Works Across Generations to Help Animals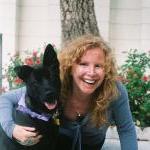 Every one of the 250 children raised their hands to Principal Wanda Heidelburg's question: "Who here likes animals?" In the front-row bench of the cafeteria, kindergarteners dangled their feet at least 4 to 6 inches above the floor. An expectant murmur hummed through the cavernous space as Ms. Heidelburg introduced this morning's "special" guest.
What a treat to be part of this special assembly at Lenora Braynon Smith Elementary School in Miami, Florida. I was there to honor a very special young student, Janika, with an Extraordinary Animal Hero Award, but I wasn't alone. Waiting in the wings was a rescued three-legged puppy named Winnie, licking the face of her foster mother.
The children were rapt with attention as I told stories and showed illuminated photographs of the dogs, cats, pigs, and birds who were rescued by the brave, compassionate acts of other children. I then told Winnie's story.
While out playing one day, a group of seven children saw someone attempting to force Winnie down a sewer gate. One of the children ran to a woman in the neighborhood known to be friendly to dogs, who, with the help of another concerned neighbor, retrieved the dog. Unfortunately, one of Winnie's legs was badly broken and had to be amputated, but it is likely the quick, humane action of the children that saved Winnie's life.
When it was time to introduce Winnie, I told the children, "Now I have a very special guest who is shy and can easily be scared by noise." A complete silence descended. The curtains opened and Winnie the puppy watched as I presented 9-year-old Janika with her Extraordinary Animal Hero Award. She was one of seven children who did the right thing when they saw Winnie. Thanks to their kind, heroic efforts, Winnie was still alive to captivate the young audience with her exuberantly energetic three-legged gallop across the stage.
Winnie and Janika's story is another example of why I believe that to end cruelty to animals, we must focus on educating children, as they hold the key to the future. Children naturally tend toward humane choices, and we must foster, cultivate, and reward this behavior. I wanted to honor Janika not simply to reward her personally, which she absolutely deserved, but also to use her courage and kindness as a positive example to other young people.
I've struggled for 27 years to help end the monstrous mountain of animal abuse-a time dedicated to activism, direct action, colorful protests, wildlife rehabilitation and release, humane education, and a constant reevaluation of the most effective use of my skills and time. I never question whether or not the time I spend educating young people is effective, as the investment of time always returns itself tenfold.
How about you? Do you have any examples of working across generations to save animals?
— posted by Susan Hargreaves, Guest Blogger