Fun, Easy, and Cheap Snack: Vegan Microwave Popcorn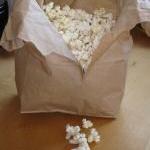 Popcorn is one of those foods that we all grew up with. It's fun food, it's movie-night food, and it's party food. When I was a kid, my dad would throw some popcorn into a pot with some melted butter, cook it over the stove for a few minutes, and then put the popped corn into a big paper bag–drizzling in more melted butter and adding some salt. He would then shake the bag to distribute the goodies inside, and presto! We had popcorn that tasted just like in the movie theater.
Well, times have changed and so have I. Now I am an ethical vegan and no longer use dairy products in my food. Popcorn has also changed. Microwave popcorn is on all the shelves and you have to look pretty hard to find regular old-fashioned popping corn. The problem with the microwave popcorn is that it all seems to have butter in the ingredients. If it doesn't have butter, it has other animal products and unidentifiable ingredients that I know I don't want in my body. And it's expensive. Popcorn is supposed to be fun, easy, and cheap.
I was standing in line at my favorite health food store a few months ago, with my organic popcorn from the bulk section in hand, when the lady in front of me struck up a conversation with me about popcorn. She asked me how I cooked the popcorn, and I told her I cooked it in a pot on the stove, with a little safflower oil. She then proceeded to tell me her genius popping method, and I have been doing it ever since.
She pops it in a paper bag, those small lunch bags we all use to carry our vegan sandwiches to work. And she pops it in the microwave. Here are some easy-to-follow instructions for that perfect bag of microwave popcorn, vegan style:
Take a small paper bag, put in 1/2 cup of popping corn, and close the top of the bag tightly, leaving plenty of room for the corn to pop. Put it in the microwave and cook on high for about 2 to 3 minutes. Every microwave is different, but you just have to listen. When it is almost done popping, turn it off, so you don't burn the already-popped corn. My microwave takes 2 1/2 minutes. You should get about 8 cups of popcorn for that 1/2 cup of unpopped corn.
Once it is popped, you can eat it as is or add some microwave-melted vegan butter and sea salt to the bag, and give it a good shake. Eat it out of the bag, my personal favorite way, or toss it into a bowl. It's a quick and easy snack for any party. Or just pull up a chair, put your favorite video into the DVD player, and enjoy your guilt-free movie night, vegan-style.