The Vegetarian Fountain of Youth: Secrets Revealed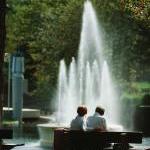 While life expectancy has increased in our society, many people spend the last decades of their lives infirm, loaded to the gills with pharmaceuticals, and/or stuck in front of the television. And yet, we all know of individuals who are vibrant, active, and alert well into their 80s or 90s. What's their secret?
Many factors interact to influence health and longevity, including genetics and luck. And biology itself sets upper limits to age: Humans are not designed to live forever, any more than cats, dogs, or sequoia trees are. But let's take a closer look at what counts as the fountain of youth–the characteristics of those who grow old not just gracefully but energetically so. What do people have in common who are agile and even athletic and who contribute ideas, energy, and compassion to our world well beyond the age of normal retirement? Recent research is pointing–and even explaining–the way to lasting, if not everlasting, youthfulness.
First, a quick world tour. Healthy at 100 summarizes the lifestyles of the Abkhasians, the Vilcabambans, the Hunza, and the traditional Okinawans – and many of them are healthier at age 90 than most Americans ever are in these times. The common denominators: lifelong physical activity, social bonds, and a plant-based diet (vegan or nearly so). The suite of diseases which so besets industrialized countries–obesity, diabetes, cancer, high blood pressure, and heart ailments–are virtually unheard of in those societies. And when modernization happens, along with factory farming and massive meat consumption come those very same diseases. China is a notable and well-documented example: The country has exponential growth of diseases linked to meat. The most recent reports focus on the epidemic of breast cancer, which was previously unknown in traditional Chinese villages.
Why are vegetarian diets so closely associated with long-term vitality? The answers are unfolding in laboratories around the world. Recent studies have found that cellular repair mechanisms are enhanced by a vegetarian diet. One key seems to be telomerase, which fixes breaks in DNA to keep cells healthy. You can opt for $25,000 per year for telomerase treatments, if you like. But it's a whole lot healthier, not to mention cheaper and easier, to go vegan! Telomerase is abundant and active even after short trials of just a few weeks on a vegan diet. Another recent study shows that oxidative damage to DNA, lipids, and proteins can be overcome with a vegetarian diet, with marked effects in older people. In short, a plant-based diet reduces premature aging and disease risk. You don't need to get pumped up on growth hormones to be youthful unless you're a Barry Bonds wannabe. Just stay active, socially connected (for example, by leaving comments at PETA Prime!), strive for inner harmony, and go vegan! The harmony part, of course, is much easier when you're not killing animals to eat them.
Have a tip for staying active?