The Perfect Dog Gift: Buckle Up Your Buddy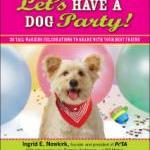 It's that time of the year again, when we are all looking for that perfect gift for our canine companions. I have a whole chapter on selecting dog gifts in my book, Let's Have a Dog Party, but I wanted to share an excerpt here on a priceless gift that you can give your mutt today: safety!
Don't curl your lip or turn up your nose at the idea of a car seat, car bed, and/or safety belt. My beloved Ms. Bea loved going out in the car and always insisted on sitting in the front seat. You could put her in the back seat, but unless you had the strength of ten strong men, you could not keep madam in the back. I didn't worry because–fatal flaw–I fancy myself a really good and really safe driver …
Of course the day came when the man in front of me decided to take a speck out of his eye while driving, slammed on the brakes–perhaps because he found the speck was a shiny quarter, I don't know–and I rear-ended him. Ms. Bea lurched forward and hit her head on the passenger side dashboard.
I'm sure she suffered a nasty headache, because she never, ever would ride in the front seat again. If I glanced at her in the rearview mirror, she was invariably peering forward, trying to make sure I didn't misbehave.
I'm not the only one. I don't want to regale you with horror stories, but I do want you to know it isn't just me. There is a certain person I know whose name shall not be mentioned, but is a Florence Nightingale to dogs, taking in the sorriest of the lot and babying them back to health and a sense of security. One little dog she adores – we shall call the dog "M" – used to ride loose in her SUV. The woman-who-shall-remain-nameless was on her way home one evening, stopped at a light, looked in her side mirror for some reason, and saw there in the crossroads behind her, her little dog, M!
Yes, M had leaned too far out of the window. Or, to put it another way, the window had been rolled down too far, and M had tumbled out! Our much-chagrined and very lucky driver did a quick U-turn and scooped a miraculously unscathed M out of harm's way. Had she not glanced in her side mirror, who knows where M would be today? Two good reasons not to put off getting car-safety gizmos for your dear dog.