Speciesism: Anti-Animal Bias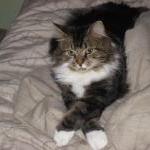 Recently, I've been thinking about how entrenched the use and abuse of animals really is. From grocery stores to clothing to the very words we speak, evidence of bias against animals is everywhere.
Speciesism is the belief that humans are superior to other animals, used as a justification for any kind of discrimination against nonhuman animal species. Of course, humans do have some unique characteristics, like written language, but we also have a lot in common with our animal cousins, like the ability to experience pain and fear, and the capacity for love. It is normal for the members of any group to look out first for themselves, and the most powerful groups do so with great success. But as humankind has evolved ethically, we've come to believe that the needs of disempowered groups have moral weight as well. Over time, we recognized the biases of racism and sexism, and we are fighting to eradicate them. But speciesism has yet to gain widespread attention. Even though a cow or a rat feels pain just like we do, many people believe that we have no moral obligations toward them.
The battle against species bias is still in its early stages. Humans use billions of nonhuman animals every year for food, clothing, experimentation, and entertainment. This relationship is usually viewed as  beneficial and profitable for humans, and this makes the human players highly resistant to change. Most people are uncomfortable with cruelty to animals, but it's very difficult for them to envision a world without animal-derived foods on the plate, despite the terrible abuses inherent in factory farming.
Speciesism can be reinforced–or challenged–by the language we choose. The words and phrases we use every day say so much about our attitudes toward animals. Species bias is still widespread in our language, and I'm embarrassed to say that I'm an occasional offender myself.
A lot of figurative language is not very flattering to animals. "That was a bird-brained thing to do." "I wouldn't treat a dog the way she treated you!" Many of our favorite insults are simply the names of animal species: snake (deceiver), chicken (coward), pig (glutton). And some common phrases are pretty awful if you think about them: "Stop beating a dead horse." "I was bleeding like a stuck pig." "Let's kill two birds with one stone."
Animal-related euphemisms abound, enabling people to conveniently ignore what they don't want to see. Meat is what's for dinner, not dead animals. People eat beef, pork, and cheese, not cow and pig flesh, or mother's milk stolen from a calf. Footwear and wallets made from the skin of dead cows? "Leather" sounds so much better. Cattle are "processed" in the slaughterhouse, not dismembered. "Domesticated" animals sound quite happy, but aren't words like "enslaved" or "subjugated" a bit nearer the mark? Is that hunter harvesting some game? Or is a human killer shooting some defenseless ducks and deer? Most fundamental of all is when we call animals "it" rather than "he" or "she," implying that they are just objects and not deserving of our compassion.
A great example of positive change is the movement to change us from "owners" to guardians of our companion animals. Many cities have already made this change in their ordinances. By the alteration of a single word, a dog or cat is no longer a piece of property on par with the sofa, but instead is a family member.
Do our language choices really matter? I think they do. Speciesist words reinforce the status quo, but every time we use nonspeciesist language, we create the possibility of change for anyone who's listening.
Look here for more on species bias.
Have you come up with any animal-friendly replacements for phrases like "kill two birds with one stone"? Let me know in the comments.