Snow Birds: Not Just for Florida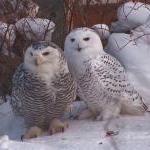 When I lived in Florida, the locals referred to seasonal residents as "snow birds." The term has a different meaning for people who enjoy the change in species and bird behaviors that come with winter. Up in Ohio, I've seen my first snow buntings of the season, and snowy owls have also come down from the Canadian arctic to the U.S. There are now common loons from the Atlantic waters near PETA headquarters in Virginia and across the country to the Pacific.
Will this be an irruptive year for red-breasted nuthatch (last year was spectacular for sightings of these little guys), common redpoll, and other Northern visitors to the U.S.?
I love taking a break from thinking about our domestic turkey friends who experience horrible treatment, as documented in the most recent undercover PETA investigation, by searching out the free-living turkeys who gather in enormous groups in the winter. Have you ever enjoyed the impressive sight of 50 to 200 wild turkeys in a field? How about a winter "night roost" of American crows, which may easily hold 10,000 or more birds? Have you heard the joyous sound of a mixed flock of black-capped chickadees, tufted titmouse, downy woodpeckers, and white-breasted nuthatches moving through the winter forest? Do you pull on your thinsulate gloves and vegan boots, load up with a vegan snack pack, and hike into the woods to look for birds, or do you hunker down and watch birds in the backyard until spring returns?
How about joining in a Christmas Bird Count this year? You may know that the first one was held in 1900 as an attempt to switch people from the traditional holiday "side hunt," in which competing teams tried to shoot the most birds and other animals in one day (they literally piled up the bodies to see who won). And since then, PETA has accelerated the progress in changing attitudes toward animals, thanks to the support of caring people like you.
Now, I've got to go chip the ice out of my birdbath so that the birds can bathe in and drink fresh water (vital in the winter!).
What birds are in your backyard these days?