Profile: PETA Member & Seasoned Animal Rights Activist Ritchie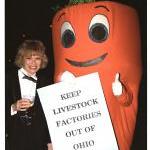 As an animal rights activist, I often feel isolated because of my beliefs. That's one of the reasons why I love meeting other people who believe in compassionate living like I do. Recently, I had the chance to talk with just such a person: Ritchie, a longtime PETA member and a seasoned animal rights activist. It was truly inspirational to speak with her about the many aspects of her activism, her personal beliefs about animal rights, and her advice and ideas for those of us aspiring to get into the trenches for animals.
Here she is in her own words:
When did you first become involved with PETA? What inspired you to get involved?
I'm pretty sure I joined PETA in the early '80s. I had started out, as I believe most animal welfarists do, by volunteering at a local animal shelter. After several frustrating years of never being able to get to the root of the problem—a lack of respect for animals–I decided to join a local animal rights organization called Mobilization for Animals (MFA), which was based in Columbus, Ohio, where I live. … MFA organized the biggest protest to date against the three largest primate research facilities in the country. Thousands of activists participated.
What do you feel is the most important thing we can do to help animals?
Nature can be both beautiful and cruel. Human beings should commit to not add to the cruelty that besets Earth's inhabitants (human and nonhuman) and instead work to reduce the suffering of all creatures, starting with the most vulnerable–nonhumans.
There are so many animal rights issues. Which are you most passionate about and why?
The closest most people come to animals is eating them, usually two or three times a day. Through numerous undercover investigations, we know that raising animals for food is filled with hideous cruelty. I hope that there will be a leap in scientific stem cell research that will result in hamburgers and chicken nuggets' being grown in Petri dishes so that no more animals have to suffer. That would satisfy those who are addicted to the taste of flesh ….
Tell us about some of the many actions you have taken to improve the lives of animals.
I've participated in just about every protest that PETA has launched: KFC, Fur-Free Friday, vivisection, circuses that use/abuse animals, restaurants that serve veal or foie gras, stores that sell Australian wool, and the list goes on.
What advice would you give someone who has just become aware of issues involving cruelty to animals and is looking to make a difference?
Make contact with seasoned activists so you don't lose time and waste energy reinventing the wheel that PETA started building more than a quarter-century ago.
Do you have any special way of talking with family and friends about animal rights issues that seem to inspire rather than alienate them?
I connect animal rights to a natural evolution from other movements that preceded it, e.g. civil rights, women's rights, children's rights. I believe most people find slavery appalling. If they connect the dots, it is hard for them to deny that humans still practice slavery, most egregiously with nonhumans.
*****
I hope that you enjoyed reading about Ritchie and her dedication to animals. What are some of the things you are passionate about when it comes to animals and animal rights?