Planning an Animal-Friendly Garden Part 3: Edging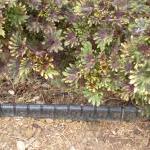 After reading my last two blogs, you can now determine where your garden should be installed in spring and how to compost throughout the winter to add to your soil. Now it's time to get your hands really dirty in the first step for creating your new garden–choosing perimeter edging.
Edging can be done anytime of the year as long as the ground is not frozen. However, most people prefer to do it in the warmer months because plant material is a little tricky in wintertime because of the lack of availability and many plants cannot establish until climates are on a warming trend.
Edging is used to create transitions in the yard and define garden borders. For example, it prevents the migration of wood mulch into sod and prevents sod from migrating into your garden with wood mulch. The problem is, edging can also be a hidden knife in your garden and can cause great harm to your animals if you do not choose the right kind.
Common steel edging is usually sold in 10-foot strips at either a 14 or 16 gage with edging pins. Normally, 16 gage is used in gardens, and 14 gage is used for flagstone walkways, patios, etc. There are many different types of edging–steel with "safety caps," roll top, weeping, coloredge, plastic, timbers, patio edging, strip stone, scallop edging, or even bricks from your garage.
All these are safe for dogs except steel edging! I put the words "safety caps" in quotes because safety caps never protect dogs (or humans) from severe lacerations. Steel edging is like having a knife in your yard. The plastic safety caps pop off, since they do not weather well in any climate. Another problem with steel edging is that many people do not know how to install the caps. In fact, many dog guardians do not realize the dangers of unsafe edging and end up in the veterinary emergency room mystified about how their dog cut himself on "something" in the backyard. Edging is almost always the culprit.
But don't give up on edging while planning your animal-friendly garden. Edging is necessary, but stick with any of the aforementioned safe ones–and do not use any type of steel edging. Or better yet, visit any landscape bulk-material store that carries edging and look for types that do not have a sharp edge. Carefully run your hand along the top of it to feel its sharpness, and if you feel any hint of a sharp edge, do not use it.
Once you've chosen an animal-friendly edging, you must outline your proposed garden to determine its shape. You can outline the area with either a garden hose or flour (both are non-toxic and won't harm your animal companions). Then just install your safe edging along these lines.
Although there are many important components to creating a successful animal-friendly garden, carefully determining its location and using safe edging will give you an advantage for many years to come.