Our Dog Lucky's Holiday Plans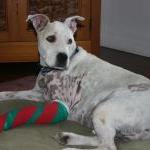 Every year, my husband, David, and I attend the annual Thanksgiving Day Party at Native Foods Restaurant in Costa Mesa, California. Thanksgiving is hell for turkeys, as we at PETA say, but at Native Foods, the all-you-can-eat vegan buffet is 100 percent cruelty-free, and we look forward to it every year.
Unfortunately, this year we suffered a minor family tragedy and missed the party.
Two weeks before the big event, our dog Lucky developed a cancerous tumor on his leg. We had it removed immediately, and he is all stitched up and recovering from the surgery. Recovery means that Lucky needs our constant supervision to ensure that there is no running, no playing, and no stairs. Since Lucky comes upstairs with us every night to sleep, David spent the last few weeks on our futon pillow on the floor downstairs in the living room, sleeping with Lucky so that he wouldn't be lonely.
Needless to say, of course, we changed our Thanksgiving plans and stayed home with Lucky and our other animal companions for a quiet and relaxing day at home.
We missed seeing Tanya behind the counter, serving up her famous Wellington, her main course of the day. We also missed the rest of her fabulous menu, a bounty of delicious vegan side dishes and desserts. And lastly, we missed the party, because Thanksgiving Day at Native Foods is one big party with organic wine flowing, food everywhere, and people milling around visiting those they know and those they don't.
What we aren't missing, though, is our dog Lucky, because he came through the surgery just fine. Even though he is still healing, he is still with us and recovering beautifully. And that's what made this Thanksgiving extra special for us. We were all together, our little family, and we couldn't ask for anything more.