Member Profile: PETA Members Drive Message Home–With an RV!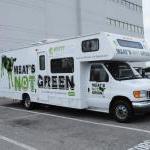 Tired of pumping your paycheck into the gas tank in these trying economic times, or have an extra car that you're not using? Then how about donating your vehicle to PETA? This is the perfect opportunity to benefit animals and qualify for a tax deduction! The proceeds from your vehicle donation to PETA will directly benefit our work to expose and stop cruelty to animals.
Recently, two of PETA's valuable members, Bronte J. and Joe G., donated their mobile home to PETA, and what a difference it is making for peta2!
In the short time since its inception, peta2–PETA's youth division–has grown to become the world's largest youth animal rights organization, with over 1 million members. peta2 sets up booths at some of the biggest music tours and festivals around the U.S., reaching out to hundreds of thousands of young people every year and inspiring them to lead a cruelty-free lifestyle and to become advocates for animals. This past summer, just as the summer tour season was kicking off, peta2's job got easier, thanks to Bronte and Joe's generous donation.
Bronte and Joe had recently purchased a motor home to transport themselves and their animal family to their cabin in Minnesota. Since 1995, they have made frequent long-term trips to enjoy their 90 acres of solitude and thought that a motor home would be the perfect vehicle. On the first nerve-wracking trip, they quickly realized the mistake that they had made. But looking on the positive side, they just as quickly turned their mistake into a valuable donation for animals.
The motor home that they donated is now peta2's primary mode of transportation, and it doubles as sleeping and eating quarters, saving PETA money, time, and resources. It is also painted to turn heads and inspire thought as it travels across the country. The new "Meat's Not Green" logo on the motor home is one way that peta2 teaches consumers that meat is the number one cause of climate change. Raising animals for food generates more greenhouse-gas emissions than all the cars, planes, ships, trucks, and trains in the world combined.
Bronte and Joe have come to realize over the years that humans and animals deserve equal respect. They stand up for what they believe in, and they never back down. They have been vegetarians for the past nine years. Bronte–a former law librarian who now spends her days writing poetry and caring for their growing family of rescued animals, which includes seven cats and five dogs–also volunteers at a local animal shelter. Joe, who proudly shares vegetarian recipes with his colleagues at the Chicago symphony, says that when Bronte suggested donating the motor home to PETA, he simply said, "Sounds like a good idea to me!"
Thanks in part to Bronte and Joe, this past summer's peta2 outreach tour was the most successful ever, with over 280,000 new members added in just three months. When peta2 heads out on tour again this winter, the motor home will once again turn heads and help change minds.
You can look here for more information on how to donate a vehicle to PETA.