Member Profile: How Rand Helps Animals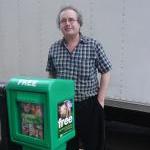 In my job, I have the honor of meeting PETA's wonderful members. I recently had coffee with Vanguard Society member Rand and we discussed his art, his love for animals, and how he became involved in PETA. Rand is an accomplished artist, focusing on fine art printmaking. He cofounded the Manhattan Graphics Center, and he is currently working on a new project to teach printmaking to young people. He lives on the Upper West Side of Manhattan with his cat pal, Jake.
Rand has loved animals for as long as he can remember. As a visual artist, his subject matter is often nonhuman animals, but many years ago, he created a rooster print, which made him think about the chicken on his plate, and he has not eaten chicken since. He's now vegetarian, and one of his favorite meals is the vegan chicken at Veg Paradise in New York City.
When asked why he supports PETA, Rand explains that he has seen how very effective PETA is with its resources. He likes PETA's brave undercover investigations (here's the latest investigation, which reveals the horrors faced by turkeys) and how PETA exposes important information that the public would not otherwise have access to.
Rand believes that the most important thing that we can do to help animals is to educate the public about the conditions in which animals live on factory farms and elsewhere. For the past year, he has been involved in the campaign to help get horse-drawn carriages off the busy streets of New York City. He's collected signatures for postcards to send to the mayor and attended vigils and demonstrations.
Recently, Rand took on another project to help animals; he's now in charge of the "Vegetarian Starter Kit"  newsstand on a busy corner in his neighborhood. He stops by every few days to restock the stand, and he knows that he's helping new vegetarians and vegans every day!
Rand believes that it is important not to be overwhelmed by animal suffering, as everyone can find some way to help animals. There are all sorts of ways for one person to make a difference. Check out Ingrid E. Newkirk's inspiring new book, One Can Make a Difference, to see just how easy it is.
Thank you, Rand, for everything that you do!
If you are interested in sponsoring a "Vegetarian Starter Kit" stand in your neighborhood, please e-mail [email protected].
–Posted by guest blogger Jannette Patterson. Jannette is the Director of Special Gifts for the PETA Foundation and can be reached at [email protected]