Judy Jones, PETA Member and Activist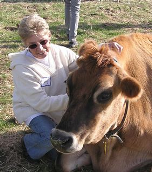 Judy Jones hasn't always been an activist for animals. In the '70s and '80s, she did some dog and cat rescue work. But she didn't think of herself as an animal lover, and she wasn't too concerned about cruelty to animals in general (although she knew not to order veal when dining out). Everything changed for Judy when a couple of PETA members talked her into attending the 1990 March for Animals in Washington, D.C. The march opened Judy's eyes to the many forms of cruelty to animals in the world, and her life hasn't been the same since. Judy now says, "It's my job to get out there and help open other eyes." She regrets that she didn't become aware earlier in her life, but she hopes to enable others to do so.
One of the first changes Judy made was to stop eating meat. This necessitated some careful negotiation with her husband, Bud, since he was the family cook. But Judy persisted, with the help of a vegetarian cookbook from the library, and she is now meat-free.
Judy has found many ways to express her passion for helping animals. She's done lots of protests over the years, from handing out leaflets near the Oscar Mayer Wienermobile to a recent anti-fur protest at Burberry. She also works tirelessly to hand out literature at large events, with the knowledge that each leaflet might save more animals and cause another life to change like hers did.
In the early '90s, Judy worked on the campaign of a San Jose city councilmember, and when she explained to him the issue of cat overpopulation in the area, he proposed a free spay-and-neuter program. Judy ran this groundbreaking program, which is still operating today. She also found time to produce an award-winning TV show called, "For the Animals," which aired interviews with many animal rights leaders.
Judy has become PETA's close ally over the years. She respects and admires the many PETA staffers she has met, and she's ready to do anything that PETA asks her to do. She loves PETA's controversial, attention-getting approach, which has resulted in far-reaching changes that more traditional groups haven't been able to achieve.
Judy has seen many changes in her years as an activist. She comments that, thanks in part to PETA's efforts, many more people now know about animal rights and vegan diets. She sees the number of vegetarians and vegans continuing to grow but says that there's still a lot of work to do: "So many people still don't know about the cruel treatment of animals raised for food–we've got to keep getting the word out there." She is inspired by recent legislative victories in California, like the foie gras ban and Proposition 2, which gives egg-laying hens, pregnant pigs, and veal calves enough room to lie down, stand up, turn around, and extend their limbs.
I asked Judy what advice she has for people who want to make a difference for animals. "Go vegetarian," she says, since this has a direct effect on the suffering of so many animals. She also advises watching videos and reading books to become better informed about animal issues. She suggests writing letters to the editor as a great way to spread the word about animal welfare.
Judy is always looking forward to the next battle. She's currently working to shut down puppy mills, where dogs are horribly abused. She says, "Every weekend is taken up. The last thing I think about at night, and the first thing in the morning, is how to help more animals."
Judy and her husband, Bud, share their home with three rescued dogs, Prince, Pennie, and Katrina.