Ingrid E. Newkirk's Newest Book Featured on GrowingBolder.com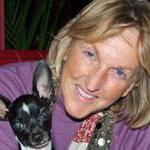 I was honored to be a featured guest on growingbolder.com–a great new Web site focused on sharing stories about ordinary people who do extraordinary things. They interviewed me about my most recent book, One Can Make a Difference, and gave me the chance to talk about some of the inspirational 40-somethings and 50-somethings whose stories I feature in the book.
There really is something about our generation–we get bolder as we get older! I am delighted to share this interview, and this book, with my fellow PETA Primers.