How Your IRA Can Mean 'I Rescue Animals!'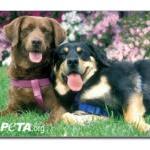 If you are 70 1/2 years of age or better, recent Congressional action has made it possible for you to use your Individual Retirement Account (IRA) to support PETA's lifesaving work for animals and reduce your tax liability at the same time. To illustrate why such a gift is vital in these troubled economic times, I'd like to tell you the story of my friend Frances (pictured here with her beloved companion, Harry).
PETA's Community Animal Project (CAP) had been trying to help Frances for years. She was a dog who lived outdoors year-round and was used as a breeding machine. She was one of a large number of dogs on a rural property near PETA's headquarters. The folks who had possession of her kept thinking (a term used loosely here) that they would make money by selling her pups. But instead, her pups usually became sick, as the owners didn't provide vaccinations, and were surrendered to PETA to alleviate their suffering. And they would foolishly breed Frances again, year after year.
Over the years, CAP workers provided water bowls that wouldn't tip, doghouses, tangle-free running lines, flea treatment, and other items to help improve the lives of these sad dogs. CAP also repeatedly offered to spay Frances–for free–at PETA's Spay and Neuter Immediately, Please! (SNIP) mobile clinic. Thankfully, the owners finally accepted the offer and had Frances spayed.
Frances' health improved after the surgery, as she no longer had to direct energy to raising pups while surviving the humid, hot Southern summers and freezing winters. But her owners ended up abandoning both her and another dog, Harry. Thankfully, neighbors called CAP about their situation, and PETA was on the scene quickly to rescue these dogs.
My wife and I rescued Harry and Frances, and we were very lucky to have them spend their final years in our household. They were the embodiment of PETA's work to have all animals treated with respect and kindness.
This critical, lifesaving work requires a consistent supply of guaranteed resources, which brings me back to the special IRA opportunity for 2008 and 2009. Caring people with a traditional IRA may instruct the trustee to distribute up to $100,000 directly to charities without including the distributions in taxable income, and any distribution will count toward the IRA owner's mandatory withdrawal amount.
Simply put, if you are at least 70 ½ years of age and mandatory distributions from your IRA cause your taxes to increase, this is a great time to make a gift from your IRA. There are more details here. You may also e-mail me directly at [email protected] for more information.
In these tough times, the number of households with animals who need to be spayed or neutered or need other basic medical care is high everywhere in the country, but especially so in Southeastern Virginia and the border counties of North Carolina near PETA headquarters. SNIP's services have never been more necessary. As we all personally struggle in this economy, it's important to remember the impact that these conditions have on animals and to recommit ourselves to fighting in their behalf. An IRA gift from you (or a family member!) to SNIP and PETA's other programs could be the perfect solution.
There are thousands of animals just like Frances who sure hope so!