Stop Menopause Symptoms With Horse Urine?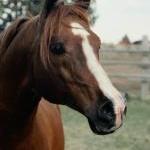 Horse Urine? Blecch!
If someone asked you to swallow horse urine, would you do it? Millions of women worldwide swallow horse urine every single day. Surprised? Well check your medicine cabinet: If you take the estrogen-replacement therapy (ERT) drugs Premarin or Prempro, you're gulping down urine too. That's because the "secret ingredient" in Premarin and Prempro is pregnant mares' urine (PMU).
Every year, thousands of pregnant mares are confined to PMU farms in the U.S. and Canada, kept in stalls too small to take more than a step or two in any direction. The cumbersome rubber urine-collection bags that mares must wear at all times chafe their legs and prevent them from lying down comfortably. Mares are given limited access to drinking water so that their urine will yield more concentrated estrogens. And although horses need daily exercise, some mares are not let out of their small stalls for six months. Some farm managers tie up horses so tightly that they cannot lie down at all in their narrow stalls.
The thousands of foals who are born on PMU farms each year fare no better than their mothers. Some are used to replace exhausted mares, many of whom have been confined to PMU farms for up to 20 years. But most of the remaining foals, along with the worn-out mares, are sold at auction, where they are bought by "kill buyers" for slaughterhouses.
An Arizona newspaper recently reported on a couple who rescues PMU mares and foals. The couple notes that the horses are often fearful and unsocialized because of abusive treatment and/or neglect on PMU farms. The couple also notes-chillingly-that the drugs' maker, Wyeth, actually forbids farm owners to give or sell PMU horses to rescue groups for fear of the bad publicity that results when rescue groups talk to the media about the horses' plight.
Premarin and Prempro don't just hurt horses. After Wyeth fought tooth and nail to ensure that only Premarin and Prempro were used in the massive Women's Health Initiative (WHI) study, their machinations backfired in a big way when the study was called off prematurely because of the discovery that the drugs were linked to an increased risk of heart attack, stroke, and breast cancer. They also found that most of the drugs' supposed benefits-including improved mental and physical well-being, better sleep, and increased energy and memory function-were nonexistent.
After the WHI findings were publicized, the use of Premarin and Prempro fortunately plummeted, but some doctors continue to prescribe the drugs out of habit-and some women continue to take them for the same reason. But a growing number of physicians are suggesting alternative therapies to manage menopause symptoms, including ERT drugs made from plant sources or synthetics, such as Estrace, Estraderm, and Ogen, which more closely mimic the estrogens found in the human ovary. Some women report successfully combating hot flashes by adopting healthy lifestyle habits, such as exercising, limiting caffeine and alcohol intake, quitting smoking, and eating a low-fat diet. What have been your experiences dealing with the symptoms of menopause?
I'm willing to bet that most women, if they knew the truth about Premarin, would find it a bitter pill to swallow.