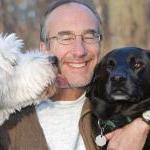 My good friend Dr. Bob was hunting for mushrooms on the side of a hill near Ponca, Nebraska, with Opie, the black lab who is like a mother to him. Dr. Bob was 81 years old at the time, and while his mind remains sharp to this day, he suffers from Parkinson's and other health problems. When he reached down to check out some mushrooms, Bob slipped, lost his footing, and tumbled underneath a huge fallen tree trunk. Bob's frail body was tightly wedged lengthwise under the tree. He struggled and fought for a long time, but he couldn't move. He tried to hit the panic button on his Lifeline remote but couldn't reach it. Bob gave himself up for dead at that point, as the cold ground beneath him sapped his strength and he passed out. When he woke up, he found that Opie had dug a trench beneath him from the other (downhill) side of the tree, along the entire length of his body. Bob was able to roll into the ditch, under the tree, and out the other side to freedom. He says today: "I had given up-I thought I was dead. I wished I had a chain saw. But I didn't need one, because I had Opie. She saved my life!"
Every one of you has rescued animals at one time or another, whether it's letting a moth or a ladybug out of the house or saving animals in the wake of Katrina. I once caught my 70-pound dog Buster when he jumped off a 40 foot bridge (actually, he flattened me like a pancake-I tried to catch him). But animals often rescue us. Emotional rescue-well, that happens every day. Anyone who has animal companions gains inner peace from their presence. And physical rescues, like Opie's saving Dr. Bob in the woods of Nebraska, are not rare either.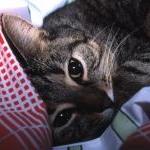 My late cat Rachel saved me many times, in many ways. You might argue about this, but I'm quite sure that she was the smartest cat of all time in the entire universe. She adapted to an onslaught of moves across the country and to major changes in our lives with supreme calm. Here's one rescue. When we first moved into an apartment in Tucson, Arizona, Rachel went nuts. She kept meowing and leading me to the door. She had never acted this way in our several years together. Then she finally showed me why: We had an 8-foot-long snake as a roommate, hiding under the furnace in our living room! I did manage to liberate the snake back into his native habitat, but this happy ending was entirely because of Rachel's presence of mind and devotion to me.
Something I often do with my dogs is let them lead me through thick vegetation off-trail or lead me in the dark during a late walk in the woods. They understand my limitations and check often to see if I'm still with them, although I'm sure that they would be appalled to know just how feeble my night vision and tracking abilities are.
I bet you've got some stories like this too. Let's hear them!