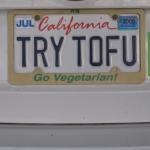 The PETA Web site has a wealth of information and ideas on how to help animals. I love reading about the publicity stunts, the demonstrations, and the activist tips. One such tip motivated me to do my part to advertise my vegan lifestyle: I bought a personalized license plate for my car. I live in Southern California, where the personalized plate first got its start and where probably more cars than not have a license plate that advocates one thing or another, depending on the driver. It is the perfect way to let others know that I am vegan. The license plate I chose was "TRY TOFU."
My plate always causes some kind of reaction. People honk and wave at me on the freeway. People take pictures of my plate. They stop and talk to me in parking lots to tell me that they have tried tofu and they like it. And people ask me for recipes. It's a wonderful conversation opener to discuss the benefits of a vegan diet.
By the way, the activist tip that changed my car from plain to personalized was from a PETA employee. She legally changed her name to GoVeg.com. Every time she pulls out her driver's license, gives her name to someone on the phone, writes a check, or otherwise needs to identify herself, she is promoting her vegan lifestyle choice, her choice to voice her opinion of the rampant animal abuse that is so prevalent on today's factory farms and in slaughterhouses.
GoVeg.com inspired me to do my little part to advertise my vegan diet. Share your personal animal rights advertising ideas and campaigns! There's nothing like one good idea to spark another!