Guess Who Won This Time!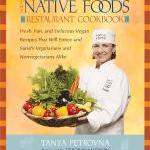 One of my favorite parts of my job is giving away these great compassionate prizes here on PETA Prime! The winner of our latest contest is Ms. Kim C. from York, Pennsylvania! She's the lucky winner of an autographed copy of The Native Foods Restaurant Cookbook. Congratulations, Sue, and enjoy!
And now, just in time for the holidays, our newest PETA Prime contest: Win a free gift basket full of chocolate candies, brownies, and cookies from Allison's Gourmet! As PETA Prime's resident chocolate connoisseur, I can assure you that you don't want to miss the chance to win these delicious treats. Promise to share if you win?