Do AKC Papers Matter?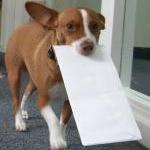 The question came as I was approaching the end of an interview with two morning "radio jocks" discussing Spay Day activities at the animal shelter that I was running at the time.
"But aren't those papers with the purebreds worth something?" asked the one host, who had earlier indicated that he had a purebred dog.
"Sure," I responded. "They prove the person holding them is an idiot because they paid hundreds or thousands of dollars to perpetuate a problem when they could have helped an animal and for much less money, received a spayed or neutered puppy or kitten who would make a great lifetime companion."
The show was almost out of time, so the hosts just repeated the animal shelter's phone number for the Spay Day information, and I hung up. One of my colleagues, who had been working in open-admission shelters and euthanizing homeless animals for more than 10 years was laughing so hard at my honest comment that I thought he might need medical care. I'm glad he saw the humor in my directness, but this whole issue of "papers" is no laughing matter.
The American Kennel Club (AKC) issues papers that supposedly "register" and "prove" that your dog is a "purebred." Dogs adopted from animal shelters do not come with these papers, so people mistakenly think that there is something wrong with the millions of healthy, wonderful homeless dogs in need of forever homes–all because of this paper myth.
I recently talked a woman and her daughter into adopting one of the dogs from the shelter where I volunteer instead of going to a breeder as they had planned. The woman's last question to me was, "And you're sure that papers don't matter?" I let her know about a Dateline NBC investigative piece (resulting from a PETA undercover investigation) that reported that dead dogs and even cats had been registered with the AKC as "purebred dogs" and that anyone who pays a fee can register their animals. She nodded, and I explained, "It's all marketing, and it perpetuates the tragic overpopulation problem so that wonderful dogs like these here are homeless; nothing more."
Now, papers can be used on the floor with a puppy who isn't yet housetrained, but I can't think of any reason to have them. Except, perhaps, as historical relics to illustrate a sad period of human greed and animal suffering. What do you think?