Climate Change on the Dinner Plate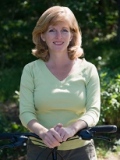 Seems like everyone has gotten the message about climate change. Human-generated greenhouse gases like carbon dioxide are the major culprit, and the effects include rising sea levels, more intense hurricanes, droughts, and loss of biodiversity. People want to know what they can personally do to reduce greenhouse gas emissions. Everywhere you look, there's another list of "Ten Easy Things You Can Do to Save the Earth."
My husband and I got serious about reducing our own contribution to climate change a few years ago. We started by signing up for a sustainable-living class and taking a hard look at our lifestyle. It was easy to make the first changes. We installed compact fluorescent light bulbs, turned down the thermostat, and made more trips by bicycle. These changes weren't hard at all, and we ended up saving money too.
But once we had done the simple stuff, we were faced with some difficult tradeoffs. In order to make big reductions in our carbon emissions, we would need to spend some big money. Should we buy a new refrigerator or upgrade the house with double-paned windows? What about installing solar panels or buying a more fuel-efficient car? Since so much money was on the line, we wanted to get the maximum reduction in greenhouse-gas emissions for every dollar we spent. Those "Ten Easy Things" lists didn't help, since they didn't tell us how big a reduction we'd get from each checklist item.
But one of the biggest contributors to climate change didn't even appear on the checklists. We found out what it was in late 2006, when the U.N. released a report called Livestock's Long Shadow. The report states that the livestock sector is responsible for 18 percent of all worldwide greenhouse gas emissions. That's more than the emissions from the entire transportation sector–planes, trains, cars, and boats–combined. We realized that we were already having a big impact by putting vegan food on our plates every day. We also learned from the report that the livestock sector is a top contributor to the world's most serious environmental problems, such as water pollution, air pollution, and land degradation. Demand for meat is rising quickly as the world gets more affluent, which makes the problems even worse.
We found some more connections between diet and climate change in a University of Chicago study. If you replace your Camry with a hybrid Prius, you'll save about 1 ton of carbon dioxide emissions each year. Good stuff, but the study goes on to say that changing from a meat-based diet to a vegan diet saves the equivalent of 1.5 tons of carbon dioxide emissions every year! If all Americans cut back on meat consumption by just 20 percent, it would yield the same reduction in greenhouse gas emissions as if everyone in the country switched from driving a Camry to driving a Prius! And vegetables cost a lot less than a new car.
Dr. Rajendra Pachauri, chair of the Intergovernmental Panel on Climate Change and one of the world's foremost authorities on climate change, has recommended that people have at least one meat-free day per week. Sadly, this recommendation received little media coverage. Even though we now have scientific evidence that meat consumption is a major contributor to climate change, the "eat less meat" message isn't on many "Top 10" lists. And despite the devastating environmental impacts of the livestock industry, not one of America's environmental nonprofits has launched a major campaign to promote reductions in meat consumption.
My husband and I are still turning off the lights and washing the clothes in cold water, but now we know that one of the best things we can do is to spread the word about the connection between climate change and what's on people's dinner plates. Talk about an inconvenient truth.
For more information, see "Fight Climate Change With Diet Change."