Welcome Elizabeth Bublitz: Animal-Friendly Gardening Expert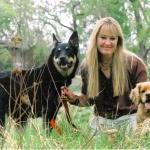 I am thrilled to be joining the team here at PETA Prime! I love gardening and I love animals, so I have a feeling that I will fit right in here.
I used to think that I was a genetic freak, since my parents never liked gardening. Our landscape only had sod and evergreens because they are very low maintenance. However, my parents loved and respected animals. We were the "weird" family who had numerous cats, dogs, rabbits, gerbils, and fish. Whoever roamed into our neighborhood as a stray found a home with us. I think there was a sign somewhere that told strays how to find our house. I have stayed in touch with some of my childhood neighbors, who confess now that they were embarrassed to have us living on their block.
Despite my innate love for animals, I rebelled and became fascinated with plants. My first rebellious experience was in preschool when we planted a seed in a cup. I was in awe when I saw how we watered a little pile of dirt and something beautiful sprouted. I took it home and started filling cups with dirt and seeds and placing them in our living room window. Just what my parents needed, more dirty dishes. My mom thought it was a phase–I think she still does!
My passion never stopped. My first "real" garden was when I was in the first grade and used the area where the tetherball used to be. Something happened to it (things got destroyed or ruined in our house very easily), so I sprinkled a packet of zinnia seeds in the sandy soil and watered like crazy. They must be very hardy because they grew and actually bloomed–and I was hooked. When I was in college at the University of Colorado in Boulder, I'd stay with my parents in the summer and create gardens.
After completing the Master Garden program, I worked at various landscape design firms and implemented a design center at a local garden center. As time went on, I realized that nobody knew how to consider dogs' innate habits in their yard–after all, they often use the yard more than any other family member. So, I started my own landscape firm that catered to dogs. My only resource was my childhood veterinarian, so I'd call her about behavior issues–deterring dogs from digging, escaping, etc.–and she gave me numerous tips. I knew landscape material, she knew animal behavior, and I used both … and ta da! Now I spend my days creating yards and gardens for animals and people.
I'm blessed to have a job that I love, which combines my love for animals and gardening. I can reflect and say that I'm glad I grew up in the "weird family on the block," since I'm unique in my industry. It gave me a lot of strength to be different. Also, my parents' aversion to gardening became an asset, since I am able to create gardens that are low maintenance. I was groomed for that my entire life.
My life is great. I just released my first book to celebrate my 10th anniversary in business, which was co-written with my childhood veterinarian, Dr. Spurling. Even though I've been an oddity, the green industry has started to embrace animal-friendly landscapes, and now I am advising them on new products that are safe for animal companions, such as edging. The best part of my job is when someone tells me that they were able to keep their dog because of my techniques. If I can prevent a dog from being relinquished, the rest is gravy!
I am excited to be sharing my animal-friendly gardening and landscaping tips here at PETA Prime and look forward to your own tips and questions. Here's to happy dogs and beautiful gardens!