What's With Single Men My Age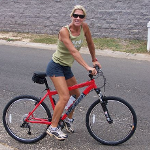 I am 55, and I have never been married, so I have had a lifetime of dating. I always make it clear, right from the start, that I am vegetarian-not just for health reasons but because I don't want animals to suffer and die. The younger men I have been involved with have been totally cool with it. Most have become vegetarians, too, and since I am not much for cooking, they have become great vegetarian cooks. Others have respected my beliefs enough to eat vegetarian when they are around me.
But every time I have dated men my age or older, it's a whole different story. It's like they are Neanderthals. They say that they respect the fact that I am vegetarian, but they "need meat," or they believe that God made animals for them to chomp on. They order bloody hunks of meat at restaurants right in front of me, and later, they can't understand why I won't kiss them. Some even have the nerve to ask if I will cook meat for them "once in a while." Yuck! They just don't get it. The most astounding part is that they are all upset when I tell them that I don't want to go out with them anymore.
Is it just me or the men I've been involved with, or do other veggie women find single younger men to be more evolved than single older men? Are there any single older vegetarian men out there? If so, where are they hiding?