What Is This Elephant Doing?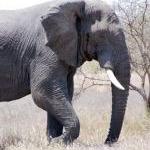 (a) Walking
(b) Taking a nap
(c) A stupid circus trick (bullhook hidden from view)
(d) The same thing my dog does when she holds her breath
And the answer is …
I forgot to mention that this elephant is frozen in place, not moving, so (a) cannot be the right answer. If you chose (a), feel free to try again. Are his eyes closed? Perhaps, but he stood like this for only 10 or 20 seconds, not long enough for sleep to be of much help (and have you ever tried to sleep while holding one leg up?)-(b) is out. Oh, and this is a wild elephant. I took this photo during my recent trip to Botswana, so we can nix (c) as well. That leaves (d) as the correct answer. Here's why:
Have you ever noticed that when dogs listen intently-to a faint sound outside the house, say-they freeze and hold their breath so that they can hear better? The photo shows the marvelous elephant version of doing that. OK, it's not exactly like the dog analogy, because the elephant is listening to vibrations in the ground, very low frequencies that we can't hear. When elephants are concentrating on this, they freeze in place and hold a front foot in the air for several seconds at a time, often closing their eyes to focus their attention. It looks like they are taking a short nap in mid-stride (which is the fanciful explanation that I was told when I first saw it).
It's a riot to see several elephants in a group doing this at once: "Hey, did you hear that? Listen!" So they stand frozen, holding their legs in the air as if in a trance. Then they instantly continue with other activities, as if breaking a spell. Putting more pressure on three legs by lifting one might amplify the sound through special pads in their feet and help them triangulate the location of the source. They can detect individual nuances in subsonic calls transmitted through the ground over very long distances. This way, they track other elephants much farther away than the range of vision or airborne calls. Amazing!
Like so many animals, elephants are tuned in to a world quite beyond our sensory reach. Getting back to my dog, I sometimes play hide and seek with her when we are in the woods. But it's no contest – she chases down my scent trail like there's nothing to it. I think
all other
animals are tuned in to some aspects of the world that we are unaware of. Got any favorite examples to share with us?