Turning Bunny Butchers Into Babysitters?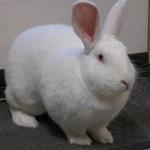 I'm on "bunny duty" this week. I'm taking care of my Mom's two rabbits while she is on vacation-which makes thelatest undercover investigation footage obtained by PETA all the more heartbreaking for me. Investigators went undercover on rabbit fur farms in China and France and documented that rabbits were living in cramped, filthy cages and being killed in horrific ways–yanked out of cages by their ears, shackled by their hind legs, shocked with electric stun guns, and decapitated. In the video footage, which I would caution you not to watch shortly before or after a meal, the rabbits scream–yes, scream–during slaughter. One investigator saw one rabbit lose control of her bowels after being shocked repeatedly.
One of the rabbits in the video looks very much like my Mom's bunny Lewie (named after Lewis Carroll because he looks like he sprang straight from the pages of Alice in Wonderland). Lewie is huge–bigger than many cats–but he's a gentle giant. When I let him out of his cage in the morning, he always waits to get a good scratch behind the ears before leaping and twirling and going on a mad dash through his bunny tunnels.
Mom's other rabbit, Eddie (get it? Eddie Rabbit …), is barely half Lewie's size, but he has a Napoleon complex and tries to bully Lewie if given the chance. When they first met, they latched onto each other's rear ends in a ying-yang-style fight that was remarkable not for the amount of fur that flew in the 10 seconds before we broke them up, but for the silence. They made no sound whatsoever as they busily yanked tufts of fur out of each other's rumps.
Rabbits are prey animals–it's in their nature to hide their pain and to stay quiet in order to avoid attracting the attention of predators. So you can imagine how utterly terrified a rabbit must be before he resorts to screaming. The thought of someone inflicting that kind of torture on Lewie or Eddie–who can so easily be made blissfully happy by a simple ear-scratch or a few bites of banana–makes my blood run cold.
PETA has sent footage from the investigations to Georgio Armani because he claims to have sworn off all fur except fur from rabbits, as if rabbits are somehow less deserving of compassion and respect than a mink or a fox. The logic of this escapes me. I think that if Armani were to spend a week on "bunny duty" and got to know bunnies like I have, he'd quickly change his tune.