The Triumph of Military Technology Over … Bambi?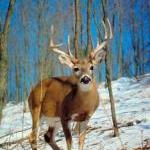 Maybe you've wondered what it's like to view the world through the eyes of another animal, say a cat, a dog, or, more to the point, a deer. Here's your chance to do exactly that, or at least to witness how deer see hunters. The scientists who figured this out have been channeling their efforts into the latest camouflage designs, using the same computer-imaging process that protects our armed forces. With this high-tech clothing, hunters are virtually invisible to deer. That's right: The whole point here is to make it that much easier to slaughter these defenseless creatures.
Not that it was hard before. Using lethal weapons to make it absurdly easy to kill anyone who moves is hardly a new concept (look up the aerial wolf slaughter in Alaska for another timely example). Deer are marvelously nimble and well adapted for fleeing from danger, but they don't perceive humans as a threat at the killing range of high-powered rifles or modern crossbows. Actually, half of the arrows shot into deer leave their victims wounded and suffering rather than dead, but invisibility won't change that. Hunters are notorious for coming up with justifications for pursuing their outdated and malicious tradition, in spite of all the evidence against their arguments.
Ah, autumn-when the leaves are changing colors, birds are flocking, and the air is filled with, well, gunshots. Every year, reckless hunters wound or kill hundreds of people, many while walking on their own property. Recently, a 54-year-old hiker in Washington was shot to death by a 14 year old who mistook her for a bear. The hunter's chaperone was 16 years old. But the times, they are a-changin'. While our tax dollars continue to support the hunting and fishing industries-which supposedly "manage" animal populations-this method of population control is being used by smaller and smaller segments of society. And by and large, the younger generation just isn't taking up arms against wildlife with the enthusiasm of its parents. The U.S. Fish and Wildlife Service reports a steady decline in the numbers of hunters and fishers over the last 20 years. There are now about 12 million hunters in the U.S.-less than 4 percent of the population. But the proportion of public programs and land at their disposal is grotesquely larger than the proportion of the population that uses it. And with the drop-off in popularity of killing for fun, state agencies are clamoring for more business, since they depend on licensing fees to fill their coffers. Meanwhile, there are now over 71 million wildlife-watchers, six times the number of hunters, who enjoy being a part of nature without destroying it or killing anyone. Sooner or later, these statistics are bound to sink in, so that our tax dollars and public lands can be used appropriately-wouldn't you think?
So I encourage you to speak up to your local, state, and federal officials, and let them know that you support protecting wildlife rather than killing defenseless animals. Let's use our tax dollars for peaceful coexistence with other living beings and celebrate the diversity of life instead of murdering it.
And please kick the tires of the charities that you support. I was surprised when I discovered that the Sierra Club actively promotes hunting, although I've known for some time that World Wildlife Fund sponsors hunting and fishing projects to "manage" wild populations. "Sustainable use of resources" is often used by environmental and wildlife groups as a code-phrase for hunting and fishing. But a vegetarian diet is far more sustainable, anywhere on this planet. In fact, it's our only hope for the exploding human population. You really can't eat meat and call yourself an environmentalist, let alone an animal lover. Hunting and fishing have thus become one litmus test for me to narrow down the number of organizations that I personally support-to a very short list.
Have a favorite spot for wildlife-watching? Give us your best recommendations.