Native Foods Prop 2 Party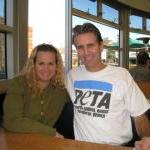 My friends Jill and Jeff
Native Foods is one of my favorite vegan restaurants. Not only do they have awesome food, they also voice their opinion about animal rights loud and clear. The Costa Mesa, California, location is a restaurant that I frequent, being just shy of an hour's drive from my home. It's housed in a yurt, a round structure, with huge chalkboards on the walls around the perimeter with animal rights sayings written on them. There is PETA literature everywhere: on the counters, at the tables, and in the bathroom. Even the parking lot has animal-friendly sayings painted on the asphalt in each parking space. When you walk in the door at Native Foods, you are greeted by friendly vegan staff and rows of Tanya's Native Foods Cookbooks, and you know that you are definitely in an animal-friendly environment.
Lynda Sheklow is a dedicated activist and the manager of Native Foods. She told us that she was having a Prop 2 party at her restaurant on October 11, so we called up a couple of our friends, Jill and Jeff, who live in L.A. and work for PETA, to meet us for lunch and check out the event.
Prop 2, the Prevention of Farm Animal Cruelty Act, is the California ballot measure urging California voters to stop cruelty to animals. Prop 2 is a modest measure that would allow pigs used for breeding, calves killed for veal, and hens used for laying eggs enough room to lie down, turn around, and stretch their limbs.
The place was jumping; all kinds of activity was going on. The Native Food's staff were all wearing "YES! on Prop 2" T-shirts. Lynda was going from table to table, handing out bumper stickers and giving info about the initiative to anyone who asked. She and her husband, Jack, took turns at the microphone reminding everyone why we should vote "YES!" on Prop 2. Her daughter was at one of the counters, selling raffle tickets and asking for donations for the cause. And Lynda donated a portion of the proceeds of all the meals sold that day to Prop 2 for their advertising and awareness campaign.
So while we were munching on our Baja Surf Taco's, Chicken Run Ranch Burgers, and Mad Cowboy Bowls, surrounded by the voices of activism, we were inspired to do what we could for the cause of animal's rights, not only voting "Yes" on Prop 2 but also living every day compassionately and giving our voices to those animals who have no voice of their own.