Letters to the Editor: Wildlife and Traps Don't Mix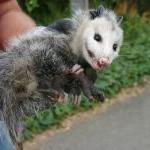 One simple way that you can help animals is to write letters to the editors of newspapers and other publications. Below is a letter that my husband and I wrote to a local paper in our area-and they published it. Sorry, the pictures are a bit gruesome, but the situation involved an animal in agony.
Letter to Editor:
Yesterday afternoon, my husband and I found a struggling young opossum stuck in our chain link fence. We discovered it was actually a cheap, plastic rat trap on his front leg that was caught so we immediately cut the fence, took off the trap, and found that his leg had turned black with gangrene. It was grossly swollen and had been cut in half. The animal had undoubtedly been in agony for days. He was so weak he did not even struggle as we put in him a cat carrier. We were then told by Project Wildlife that, unlike raccoons, opossums cannot survive in the wild with three legs, so this possum had to be euthanized.
Lethal animal traps may sound like a quick fix to some people, but they are torture for wildlife. They clamp onto the animal's leg, causing larger animals to run away in terror. The person who set the trap may never see the animal, but his neighbors will.
An animal caught in a trap has little chance for survival and endures days of excruciating pain, fear, and hunger. The trap we found was meant for mice or rats, but here in old Encinitas, we also have opossums, skunks, rabbits, foxes, coyotes, birds, and other animals who may get trapped.
Most people don't know that opossums, along with skunks, eat rodents and help keep their populations under control. If we kill the wild animals who thrive in our neighborhoods, we break this natural cycle and compound the rodent problem.
If you have a rodent problem, please don't use lethal traps or poison. Live traps are easy, inexpensive, and humane, allowing you to release animals away from your house. Remember to check them several times daily and release the animal as soon as possible, as they can dehydrate in a matter of hours if it is warm.
This is not the first time we have found injured or dead animals in our yard, but with some awareness, Encinitasians will find how easy and rewarding it is to live peacefully with the wildlife around us.
Laura and David Frisk