I Scream for Vegan Ice Cream!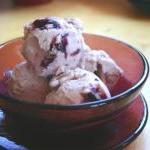 I have always loved ice cream, and going vegan didn't cramp my style one bit. There is an abundance of delicious soy and rice-based frozen desserts on the market now. I love them all. I bring home new brands and flavors every week, and I fill my freezer so that I never run out, since I have a big bowl after dinner every night. Really!
My new favorite, Soy Creamy nondairy frozen dessert, is found at Trader Joe's, marketed under the Trader Joe's label. It's awesome. Everyone I know who tries it, including the Trader Joe's staff, raves about Soy Creamy. Two of the flavors especially stand out, and they are so delish that I had to tell you about them.
The cherry chocolate chip flavor starts with a yummy cherry base, not vanilla. It is so full of big pieces of cherries and chunks (not chips) of chocolate that you will feel like you are eating frozen chocolate-covered cherries. They definitely did not scrimp on this one-you practically have to chew this bowl of "nice" cream.
All you baby boomers will remember Creamsicles, those orange and vanilla bars that you devoured as a kid. The mango vanilla flavor is the adult version, a gourmet "Creamsicle" in a bowl, with the mango and vanilla swirled together into sweet and creamy scoops of heaven. There aren't any delicate orange flavors going on here: This one is saturated with luscious mango, and the vanilla only slightly softens the blend.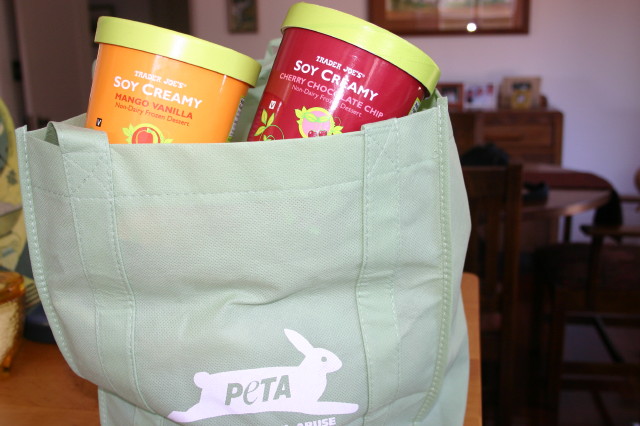 There is really no reason to eat artery-clogging, dairy-laden ice cream. These soy-based frozen desserts are so sweet, rich, and creamy that no one will know that they are vegan. The next time that you are in your local Trader Joe's, fill up your PETA Logo Eco Grocery Bag with a quart (or two or three!) of Soy Creamy frozen desserts. If you don't have a Trader Joe's in your neighborhood, just fill that bag with your favorite soy and rice-based frozen desserts from your local grocery store, which should definitely have a few choices. They are good for your taste buds and great for your health, and the best part is that you won't be supporting the cruel dairy industry.
What's your favorite vegan ice cream? Come on-share with the group!