Friends in Need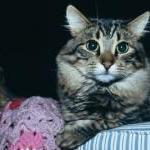 A few years ago, I took my 8-year-old cat to the vet, expecting to be told that he was just fine. Instead, I found out that his kidneys were failing. This is usually a fatal condition and is common in older cats, but we never did figure out why it happened to him so young. I was determined to cure him if I could, or at least give him the best possible care for his remaining life. I overcame my fear of needles and learned how to inject him with fluids to flush his system. I also figured out how to give him six pills a day without making him too miserable.
All of this took a huge toll on my emotions and energy. I was very busy at work, which helped distract me, but I found myself exhausted every evening. Mornings were often hurried and stressful, as I tried to care for my cat quickly so that I could get to my first meeting on time. I explained to my boss what was going on and told him that I might need to take some time off to deal with all the home care. He was kind and supportive, for which I was very grateful.
The reactions I got from friends and coworkers varied widely. People who knew me well, especially those with companion animals of their own, were sympathetic. But other people found it hard to understand the extent to which this was overshadowing my life. No one ever said to me, "He's just a cat!" But sometimes I could see in their faces that they were baffled by my intense grief. When my cat finally died after two and a half difficult years, I dropped into an ocean of sadness, and I felt again the confusion of my friends as they tried to understand what I was going through.
Shortly after this, a friend of mine suffered a terrible tragedy. Her beautiful daughter, just 1 year old, died of a sudden illness. In all the heartbreak of the little girl's death, I remember being awestruck by all the love and support that everyone was providing to help my friend's family cope. I realized then how much I had needed that kind of support after saying goodbye to my cat.
People don't always know what to say or do when confronted with serious illness or death. This is especially true when it's a companion animal who is sick. But the simplest things can be so helpful. If someone you know has recently lost a much-loved animal, just say how sorry you are. Share a favorite memory that you have of your friend's dog or cat. Send a condolence card. Ask if you can help by taking some food to your friend. It can be a huge comfort for you just to acknowledge the grief that your friend is experiencing.
If you are losing an animal yourself, don't hesitate to ask for the support that you need. Your friends might not realize how much you need them, so you might need to explain to them what it's like to lose this member of your family. Once they understand, they'll be able to help you through the grieving process. Telling your boss and coworkers can help them realize why your job must take a back seat for a while.
Fortunately, these sad events don't happen too often. There are lots of little ways every day that you can respect the bond that people have with their animal companions. Ask a neighbor how his cat is doing. Invite a friend to go for a walk and include her dog in the invitation. And when you go to visit your animal-loving friends, be sure to say hello to their furry family members as well as the two-legged ones.
What have others said or done that has helped you cope with grief over an animal? Share your best experiences and ideas.