Destination Costa Rica: My Frog Blog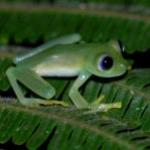 For those of you who know frogs only from biology class, you'll be happy to know that October is "Cut out Dissection" Month over at peta2. The response from young activists has been enthusiastic and exhilarating. We can rejoice that computer programs like the Digital Frog have replaced real frogs in some schools, although many classrooms still remain torture chambers for frogs and students alike. But today, let's play hooky and see what the frogs are up to in the jungle.
Before we get too crazy out there, we have to realize that it has been a tough couple of decades for frogs. Of the 6,000 species of amphibians worldwide, roughly half are in serious trouble, and somewhere between 130 and 250 species have been given the bum's rush to extinction, mostly because of fungal infections. The origin of the deadly fungus is a sad story in itself: It spread worldwide from South Africa because of the trade in Xenopus frogs during the mid-20th century. These frogs were being used as pregnancy tests for humans. The unfortunate Xenopus frogs respond  to the urine of pregnant women because of the presence of a hormone that is now easily detected with home pregnancy tests. But prior to the invention of convenient home tests, Xenopus frogs were bred and transported all over the world and often carried a chytrid fungus that demolished frog populations throughout Central and South America, Australia, and elsewhere. The debate on why the fungus has been so lethal continues, but global warming might be a factor in tipping the balance. Here's a tiny bit of good news: Recently, a couple of remnant populations have been found of two species thought to have been extinct. The armored mistfrog has been rediscovered in Australia, and the harlequin toad has been found in Costa Rica. But don't get your hopes up: The trend is toward extinction, not recovery. As we walk through the jungles of Costa Rica, it's a whole lot quieter than it used to be. We no longer hear a symphony of frog calls, just an occasional tink or chirp. It's the amphibian version of Silent Spring.
But the survivors are exuberant, and I love them for that. I think that you will too. So let's track down the most distinctive frog in all of Costa Rica: the strawberry poison dart frog (aka the blue jeans frog). It's not difficult to find the males when they are calling to advertise their territories. Tiny as they are, their colors are brilliant and easy to spot. I once watched a male and female go about their courtship with each other, and they were up to some serious flirting, I've got to tell you. The female was tantalizingly coy as the male showed off his territory. The choice was hers, and she took her time checking out the goods. In the end, a blissful union took place, and she laid her eggs for him to protect (after he had added his contribution, of course). By the way, both males and females sometimes mate with several partners (one at a time).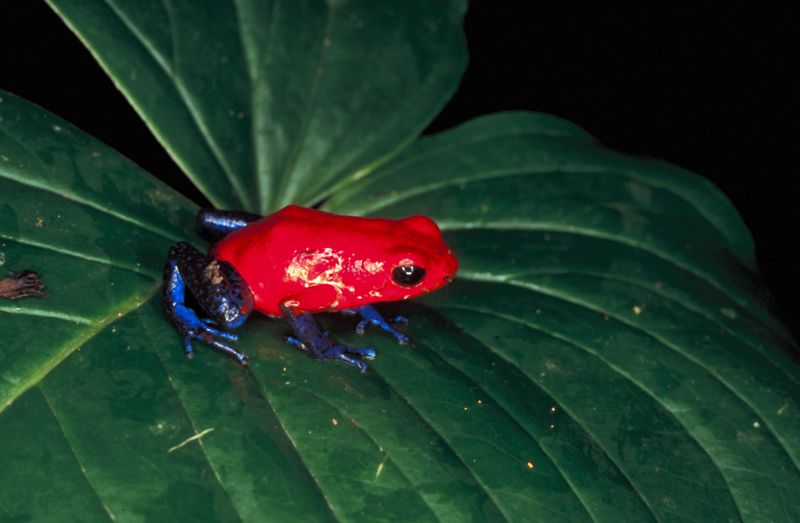 (Sorry, folks, but my fabulous photos of these guys were still in my camera when it was stolen in Costa Rica, so I must admit that I did not take this photo.)
Most frogs don't spend much time or energy on parental care: They dump their eggs and sperm into some body of water, then leave their offspring to their own devices. Not these guys though. The female lays her clutch of four or five eggs in the male's territory on a leaf, not in water. Then the male guards the eggs and keeps them wet until they hatch into tadpoles. All tadpoles are aquatic (although some species of frogs actually eat their baby tadpoles, who then develop inside a special pouch, or even in their parent's stomach, but that's another story).
When the young strawberry poison dart tadpoles emerge, mom carries her babies one at time on her back to a suitable body of water. She takes them high into the jungle canopy to a bromeliad plant. Bromeliads in the jungle grow mostly on the sides and branches of trees, and their bracts are curved in a way that forms tiny cups where they meet the other bracts. And we are in the rainforest, right? This part of Costa Rica gets close to 30 feet of rain per year, so the cups fill with rainwater to make miniature ponds. These tiny pools are where mom deposits her baby tadpoles, one to a pool.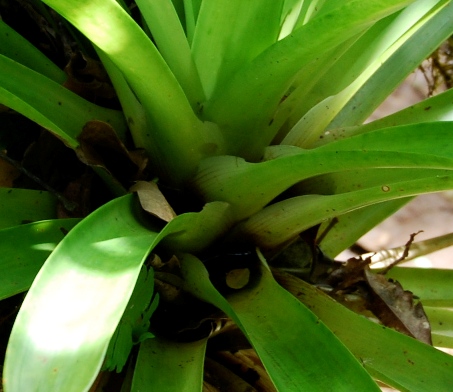 These mini-ponds in bromeliad cups attract micro-organisms and small insects, but not enough to feed a growing tadpole. So the mother strawberry poison dart frog comes back to each of her babies every couple days to feed them. She recognizes her offspring as individuals by their unique vibrations. And how does she feed them? By laying unfertilized eggs for them to eat. This is a truly amazing stunt. See for yourself.
While tropical rainforests are not hopping with as many frogs as they used to be, they are still lively and still harbor countless untold stories and adventures. It's a bungle in the jungle!