Anjelica Huston Tells Ad Agencies: No More Monkey Business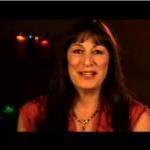 One of my favorite TV shows is Medium (and it certainly takes a clairvoyant to know if and/or when the show will air next). I became an extra-huge fan after one of my favorite actresses, Anjelica Huston, guest-starred on the show as Cynthia Keener, a John Walsh-esque seeker of missing persons. Fortunately, even though Anjelica isn't hurting for work-what with her six-episode arc on Medium and all (my spirit guide tells me that we will be able to catch Cynthia Keener in action again sometime this winter)-she took time out of her busy schedule to narrate PETA's video about the abuse of great apes in the entertainment industry.
In the video-which Anjelica recently sent to all major U.S. film studios and ad agencies that have used great apes in commercials-she describes how newborn chimpanzees and orangutans are taken from their highly protective mothers and how the young animals are often beaten with fists and kicked in the head during terrifying training sessions.
"It's a sad story that starts when the animals are babies, when they are torn away from their mothers and forced to depend upon human trainers," says Anjelica. "Great ape mothers are fiercely protective of their newborns, which means that they must be tricked, sedated, or forcibly restrained when their infants are pulled from their arms. This cruel practice leaves lifelong emotional scars on both the mothers-who go into a deep depression-and the babies."
By age 8, young chimpanzees used in the entertainment industry have grown too strong to be handled, and they are usually discarded, often at dismal roadside zoos or pseudo-sanctuaries. There, they languish for decades-chimpanzees can live to age 60-in barren cages or dank, depressing concrete cells. During an investigation of a pseudo-sanctuary, PETA found a chimpanzee who reportedly had been used in the filming of The Planet of the Apes. The chimpanzee was living in an underground cement pit that resembled a dungeon and was strewn with rotten food and feces.
"Chimpanzees and orangutans belong in rain forests, where they can build nests, forage for natural foods, make and use tools, groom each other, and raise families," says Anjelica in the video. "Using great apes in TV, movies, and advertising … causes a lifetime of suffering …."
Read Anjelica's interview with PETA on our sister blog, the PETA Files.